Kalsubai Trek to Highest Peak of Maharashtra 
Kalsubai Peak Trek with a height of 1646 meters or 5400 Feet is famous as the highest peak in Maharashtra. Kalsubai Mountain lies in the Sahyadri mountain range falling under Kalsubai Harishchandragad Wildlife Sanctuary. Kalsubai Height being the highest peak commands a beautiful view. Since Bhandardara Dam and Kalsubai Peak are extremely famous, enough effort has been made to make this trek easy. There are steel railings, chains, and ladders at places where it is difficult to climb. If you have questions regarding the Kalsubai trek booking, kindly WhatsApp us we will reply as soon as possible.
Kalsubai Trek Event Details
Kalsubai Trek difficulty level: Medium
Base village for Kalsubai peak: Bari
Region: Igatpuri / Bhandardara
Total time required for climbing Kalsubai peak: 3.5 - 4 hours one way
Duration: 1 night and 1 day
Kalsubai peak height: 5400 feet approx.
Cost for Kalsubai Trek
Cost without transport: Rs. 699/- per person (Meeting Directly at Base Village)
Option 1 - By Train: Rs. 999/- per person (Kasara to Kasara)
Option 2 - By Bus: Rs. 1399/- per person (Mumbai to Mumbai)
Kalsubai Night Trek Event Itinerary
Option 1 - By Train 
Day Zero - Friday night / Saturday night
Catch CSMT- Kasara Fast Local
08:44 pm - CSMT
08:51 pm - Byculla
08:58 pm - Dadar
09:07 pm - Kurla
09:11 pm - Ghatkopar
09:26 pm - Thane
09:42 pm - Dombivali
09:52 pm - Kalyan
11:04 pm – Kasara
Day One - Saturday / Sunday
11:15 pm - Assemble at Kasara Railway Station near the ticket counter.
11:20 pm - Travel from Kasara Railway Station to Bari Village by Local Jeep.
02:30 am - Reach at Bari.
Introduction and have tea - biscuits at the base village
03:00 am - Start ascending.
07:00 am - Reach Kalsubai Shikhar. Explore top.
08:00 am - Breakfast.
09:00 am - Start descending.
12:00 pm - Reach at Bari village and have lunch.
01:00 pm - Travel by Jeep from Bari Village to Kasara Railway Station.
03:00 pm - Reach Kasara railway station and disperse.
Option 2 - By Bus
Day Zero - Friday night / Saturday night
07:45 pm - Meet at Borivali National Park main gate.
08: 00 pm - Leave for the trek.
08:30 pm - Pick up at Andheri WEH.
08:45 pm - Pick up at Kalanagar bus stop (on the highway), Bandra.
09:00 pm - Pick up at Sion station circle.
09:10 pm - Amar Mahal, Ghatkopar.
09:45 pm - Pick up at Teen Hath Naka, Thane.
10:15 pm - Pick up at Kalyan Bypass.
Day One - Saturday / Sunday
02:00 am - Reach Bari village.
02:30 am - Introduction and have tea and biscuits at base village.
03:00 am - Start ascending. 
07:00 am - Reach on top. Explore top.
08:00 am - Breakfast.
09:00 am - Start descending.
12:00 pm - Reach base village and have lunch. Simple veg thali, Jain food is available. 
01:30 pm - Start return journey towards Mumbai.
08:00 pm - Approx. arrival at Mumbai, Please note roads are in bad condition delays will be there. 
Please note
People may board the same train from their respective stations of convenience.
Train Ticket is not included in the cost
Missing the train is missing Kalsubai Night Trek, no refund will be provided.
Bus participant, please arrive 10-15 mins prior to your pick-up location.
Whatsapp us 

1 Night 1 Day
24 Mar, 24 Mar, 24 Mar, and more
date & duration
Variant
price
Inclusions/Exclusions
What we'll give/What we won't
What is included in the tour
Mumbai to Mumbai travel by private non-Ac vehicle (bus option)
Kasara to Kasara travel by local jeep (train option)
1 veg breakfast and 1 veg lunch
Trek Leader expertise charges
What is NOT included in the tour
Any transportation (without transport option)
Travel till Kasara and back (train option)
Mineral water/lime water/ purchased for personal consumption
All kinds of Extra Meals / soft drinks ordered
Any kind of personal expenses
Any kind of cost which is not mentioned in the cost includes above
All expenses incurred due to unforeseen and unavoidable circumstances like roadblocks, bad weather
Any medical / Emergency evacuations if required
Things to Carry
Things to Carry
2/3 liters of water
Proper face mask or shield
Sanitizer
Sturdy Trekking Shoes provide more grip and comfort on trek
Good Torch must with extra battery
Jacket and proper trekking shoes
Some Dry fruits / Dry Snacks / Energy Bars
Glucon D / ORS / Tang / Gatorade sachets
One Day Backpack 20 to 30 liters
Sun Cap and Sunscreen
Personal First aid and Personal Medicine
Identity Proof
Trekking pole
Please wear Full sleeves and Full Track Pant this will protect from Summer Sun / Thorns / Insects / Prickles
Rains are expected, so pack your bags accordingly to save them from getting wet
Double pack your valuables/phones in plastic bags
Rainwear / Poncho / Waterproof jacket etc. if you don't want to get wet
Covid Safety Guidelines
Before planning for any adventure activity, please improve your minimum physical fitness. Most of us have been at home for a lockdown period.
Please convey your real medical conditions to Treks and Trails India while enrolling for the event.
Kindly wear three-layered masks, N95. Carry an extra disposable mask with you. Please ensure all participants, leaders, staff, and general persons wear masks before interacting with them.
Carry with your hand wash, sanitizer bottle, and clean your hands before touching food and objects.
Cover-up wear full sleeves shirts and full pants, hiking shoes, caps, and face bandana over your mask. Covering up will help reduce exposure to the Covid19 virus.
Bring your food and water with necessary cutlery like utility mug, fork, and spoon. Your mug can be used for cooking, eating, and drinking water. Carry your reusable water bottles; please don't share with others.
Cooperate for temperature checks, questions reading any symptoms, and oxygen level checks; these are done to help you limit the spread of the virus. All these checks will be conducted multiple times during the activities.
Kindly do not register for the event or travel if you have come in contact with someone who has Covid19 in the last 14 days.
If you have any symptoms like fever, dry cough, weakness, body aches, etc., at the time of screening. You won't be able to participate in the event. You will have to be evacuated on the medical condition and should report to the nearest healthcare center.
Maintain a distance of six feet or more while sleeping at night. Incase distance is not possible, try sleeping in a criss-cross manner to avoid face proximity.
Please bring your garbage back to the city and dispose of it in your bin.
Consuming any alcohol, cigarettes, pan masala, tobacco, drugs should be avoided; they induce a lot of spitting, urinating, and passive smoke, which can be harmful for the general population.
Avoid touching new surfaces and touching your mask and face continuously.
If your adventure destination is overcrowded, be prepared to change your location or wait for the crowd to reduce.
If any participant, trek leader test positive after returning from the event within 14 days of the Activity. They should maintain transparency and inform Treks and Trails India. It will help all others isolate themselves and get tested. Participants and Treks and Trails will cooperate to help manage the situation.
Carry your own personal gear.
Keep the conversation with unknown people to a minimum and maintain a distance of more than 6 feet while talking.
Avoid speaking with the general population and maintain distance to keep yourself safe in these difficult times.
Participant need to install the Arogya Setu app
Cancellation Policy
75% refund if notified via phone conversation 8 or more days prior to the event date.
50 % refund if notified via phone conversation 4 to 7 days prior to the event date.
No refund if the cancellation requested is less than 3 days prior to the event date 
No show No Refund.
Event Tickets cannot be transferred to another date against cancellation.
Event Tickets cannot be transferred to another person against cancellation.
If Trek gets canceled we will refund "Trek Amount" only.
If the event is canceled due to any natural calamity, political unrest or other such reasons beyond our control the same cancellation policy will apply.
Treks and Trails Event Rules
Kindly carry one Identity proof, at least for the trek with your address.
We all are going for an adventurous and exciting trekking expedition; please Do Not misinterpret it as a PICNIC or LEISURE TOUR.
The leader's decision will be final, and all the members should abide by it.
We do not destroy or dirty the archaeological, historical monuments, natural habitat on the trek.
Swimming is not allowed in the lake or water tank on the forts. Locals use that water for drinking.
Putting your feet in water tanks or on the canon is not allowed on our treks.
Any addiction is strictly prohibited, e.g. drinking, smoking, chewing tobacco anyone caught doing it will have to exit the trek without a refund and travel back on own expense.
People caught smoking or drinking alcohol will be asked to exit the event on an immediate basis.
Please do not carry or wear any valuables, ornaments, jewellery, etc. If carried, then we Do Not take any liability for the same.
Rock Climbing, Rappelling, Trekking, or any adventure activity is potentially risky. For all these events, you are at your own risk. Organizers are not responsible for any accident or compensation in whatsoever manner.
We should strictly follow the code of conduct to avoid troubling our fellow trekkers or other people from our group or outside.
Listening to music on earphones or Bluetooth speakers is not allowed while trekking.
Bluetooth speaker not allowed inside the homestay or camping tents.
Drinking/smoking,/eating is not allowed inside the tents.
If you damage the tent, break the tent poles, you will have to pay us for the whole new tent on MRP.
If you are late for the bus pickup and are not reachable on the phone during your bus pickup, the trek leader will leave without you, and we will provide no refund.
Please check things to carry and wear trekking shoes on our treks. 
Event Updates
Whatsapp Broadcast list regular update 
Step 1: Save number in your phone book Treks and Trails India - 8828004949
Step 2: Ping us your name and email 
Congratulations you will receive regular event updates now 
Email - connect@treksandtrails.org
Facebook Page - https://www.facebook.com/TreksandTrailsMumbai
Meetup - http://www.meetup.com/TreksandTrails-Mumbai-Meetup/
Twitter - https://twitter.com/treksNtrailsInd
https://www.instagram.com/treksandtrails/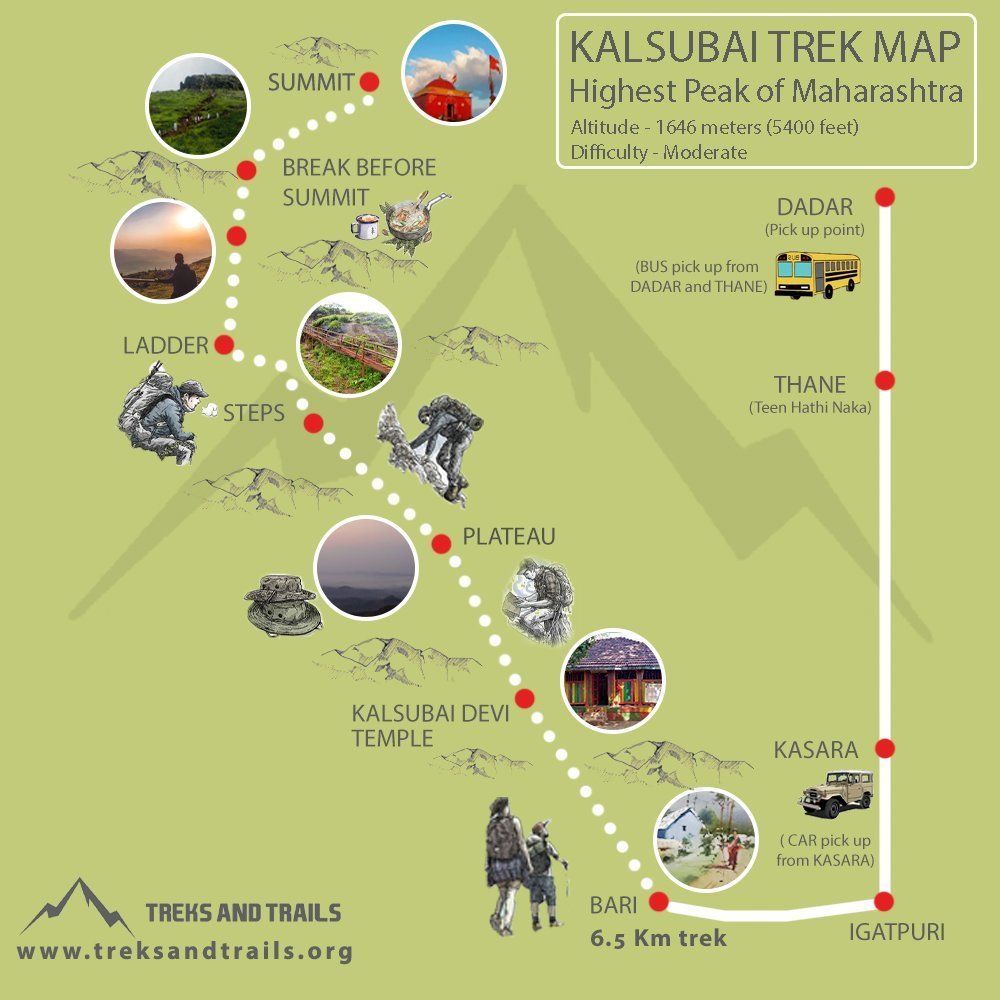 FAQ
Frequently Asked Questions
1. How to go to Kalsubai from Mumbai?
Kalsubai Peak Trek By Mumbai Local Train
The meeting point for this trek will be at Kasara Railway Station during winter and summer. We have mentioned the train timing in the itinerary. Kindly boarded the train accordingly. Our trek leader will meet you at Railway Station near the ticket counter. From here we will move towards the base village in our jeeps. Mumbai to Kalsubai is well marked on google maps. Kalsubai trek Mumbai travelers is the most famous destination. Kalsubai peak height in feet is 5400 feet above seal level. Kalsubai peak trek difficulty level is medium grade. 
Kalsubai District By Vehicle
In case you are traveling in your vehicle till Bari village, we request you to reach us on time. We will provide you with the google maps location till Bari village. Please note the road till the base village is under repair and bad condition. There is a low network or no network in this region in case of a car breakdown at night it will be challenging to find help. Kalsubai distance from Mumbai is 155 km. Fog city Igatpuri to Kalsubai distance is 33 km roads in bad condition.
By Outstation Train
How to reach Kalsubai from Mumbai by Train we have mentioned the train timings in the itinerary. Meet us at Kasara from here we will proceed in local jeeps to the base village. Mumbai to Kalsubai by local train nearest station Kasara from here in local transport jeeps. The 6.6 km long trek trail can be covered in three to four hours the trekking route offers enchanting views. Kalsubai peak weather is foggy, windy and receives heavy rainfall in monsoon. Kalsubai peak trek time is around four hours one way. 
If you have questions regarding the Kalsubai trek booking, kindly WhatsApp us we will reply as soon as possible.
2. How to go Kalsubai from Pune? How can I go to Kalsubai from Pune?
By train, you need to reach Kalyan Railway Station and board Kasara Local from Kalyan. We have mentioned the train timings in the itinerary. After reaching Kasara Railway Station, our trek leader will meet you at the ticket counter.  We will proceed from here in local jeeps till base village Bari which is the starting point for Kalsubai Location. 
By Car Pune to Kalsubai, we will share with you the google map navigation details you can follow to reach Bari village. It will take a good five hours to reach Bari Village the starting point of Kalsubai Igatpuri Trek. Kalsubai Pune road's last 60 km is not in good condition. Pune to Kalsubai trek is available for booking. Pune to Kalsubai bus is the best option to reach the base village. Pune to Kalsubai distance 180 km, six hours of driving. Kalsubai peak trek distance is around 6.6 kilometers.   
3. Kalsubai Map - Drive Through Map? How do I get to Kalsubai?
Please refer to google maps or google earth. We will send you the google maps navigation link after your booking is completed. You can follow the navigation to reach Bari village which is the starting point for the trek to Kalsubai Maharashtra. Mount Kalsubai Bhandardara cannot be reached by car you will have to hike the last 5.5 km uphill. Kalsubai trek height in feet 5400 above sea level Maharashtra highest peak. 
Kalsubai night trek from Mumbai is available via bus during the rainy season. Due to heavy truck traffic between Thane and Bhiwandi, we may miss the Sunrise if we transit via Bus alternatives. 
4. What is the Kalsubai Trek batch size regularly?
Usually, each Kalsubai Night trek group has 10 - 40 people which comprises women, men, children, solo travelers. We send trek leaders as per the batch size to make sure you enjoy your trek and receive proper guidance whenever needed. The bigger the group more the fun, our trek leader engages with trekkers and travelers to keep the group motivated. Kalsubai Shikhar video is available in the photo gallery you can watch it to understand more about the trek. Night trek to Kalsubai is the most popular trek in Maharashtra. Kalsubai elevation of 1646 meters makes it a real point to observe the sunrise. Please buy comfortable trekking shoes and improve your fitness this will improve your trekking experience.  
5. Do you provide pick up and drop service from Mumbai or Pune for कळसुबाई शिखर? 
During Winter and Summer seasons trekkers will have to reach Kasara Railway Station and meet our guide. The guide will bring you to the base village in Local jeeps you will be sharing the vehicle with other trekkers.  In case you are coming in a car you need to reach on time till Bari Village using google maps location provided by us. 
6. I am a Female traveler or Solo traveler can I join Kalsubai Night Trek? 
Kalsubai Trekking route is very safe for female trekkers, locals are very friendly. Our team will take care of your safety and your Kalsubai trekking experience. Trek to Kalsubai base village Bari is well known for its hospitality and safety. Kalsubai trek safe is for the female travelers and solo travelers hiking with us. Please avoid clicking selfies and group images near the edge of the mountain for safety reasons. 
7. Distance from Mumbai Kalsubai - highest peak in Maharashtra, mountain in India?
Four hours drive from Mumbai or 155 km approx. The road is under repair in certain sections and in bad condition. After you enter the state highway mobile network is not available for most parts of your journey. The trek trails begin from Bari village. Kalsubai trekking distance is 6.6 kilometers one way. Kalsubai trek time required is total eight hours. 
8. Distance from Pune Kalsubai highest peak in Maharashtra?
Five hours drive from Mumbai, 180 km approx, with picturesque views. It is located inside the Kalsubai Harishandragad Wildlife Sanctuary. Kalsubai peak, where the district is located, is Ahmednagar, popularly known as Nagar. Kalsubai trek difficulty level is medium and requires good endurance. 
9. The number of days required for Kalsubai trekking?
One day and One Night is required to complete the Kalsubai Night Trek. During monsoon, the trek is held early morning due to dense fog covering the peak. During winter and summer, it is advised to summit Kalsubai around dawn to avoid intense heat during the day. Trek to Kalsubai pics are available in the photo gallery you can click on the button to see more. Trekking Kalsubai has become relatively easy for regular hikers. The Sahyadri Parvat offers a mountain top view that inspires hikers of all ages. Kalsubai trek best time will be the monsoon and winter season. 
10. Where can we park our cars near the Kalsubai Maharashtra trek?
Base Village at your own risk. Locals might ask for parking fees. There are no designated parking areas around the village. Kalsubai Height in feet 5400 feet. Mumbai to Kalsubai distance 155 km. 
11. Is there any parking charge at Kalsubai Village?
Yes. Locals might collect a parking charge from you. There is no designated parking available at Trek to Kalsubai. 
12. Do you provide sleeping bags?
We are not providing sleeping bags, For hygiene reasons, we don't provide sleeping bags. incase you need to rent sleeping bags please email us. Sleeping bags are not required on this trek trail.
13. Are Toilet Available on Kalsubai Mountain?
Not available During the trek toilets are not available on Kalsubai Fort Trek. You will need to go into the open. Provision for toilet tents will be made at Villagers House eastern style commode. There is a scarcity of water so western toilets are not available. Kalsubai Fort Height 1646 meters above sea level or 5400 feet. 
14. Do Single Travellers Female signup for these events?
We have 60 % make to female 40 % ratios on our events, Many Single Travelling Female join our events, We also send female trek leaders whenever possible and available to lead the Kalsubai Treks. 
15. Are Kids allowed on treks?
Kids below 15 with Parents supervision only. We have had 5 years old kids complete the trek with their parents in the past. 
16. What type of food will be provided?
Food preference only Veg local home-cooked is available. On top, we provide breakfast Poha and Tea.  
17. Phone Connectivity on the Kalsubai trekking route?
Limited phone connectivity available for most cellular services. You can speak with trek leader regarding the same if you need to connect with your family urgently. 
18. Where will we stay during the Kalsubai Trek?
No Homestay is required for this trekking event. We will only stop at the base village for some time for introduction and instruction to be given by the trek leader. Stay will not be required on the trek. In case you want to spend more time at Kalsubai we have Kalsubai Camping Trek available at Mount Kalsubai hill station offers beautiful views.
19. Kalsubai trek booking Is cash payment or spot payment accepted?    
Cash payment is not accepted.

Registration against 100% upfront payment only via Paytm / UPI / NEFT / IMPS / Payment Getaway on the spot      payment not accepted.

We need to book in advance bus/jeep and make other arrangements upfront payment is a must 

Mumbai to Kalsubai trek is organized by Treks and Trails India every weekend. 

Kalsubai trekking package option and for group discount whatsapp 8828004949
20. Will I get bottled water at Kalsubai highest peak in Maharashtra?
Normal well water shall be provided. Villagers now sell bottled water on the route on weekends. Please carry a reusable water bottle it helps in reducing waste on the slopes. You can refill your bottles at the base village. 
21. Can I charge my phone at the base village?
No electricity. Please carry a power bank if required. 
22. How is the Kalsubai weather now?
 Kalsubai weather forecast depends on the season we have listed them below. 
Summer Kalsubai Temperature Night 17- Day 39°C approx. It is extremely windy at the summit and cold. 

Monsoon rains very heavily please double pack your expensive phones and gadgets 

Winter Kalsubai temperature is 10 to 20 degrees and very windy please carry a windproof jacket for the summit. 
23. Can we smoke or drink alcohol?
People caught smoking or drinking alcohol will be asked to exit the event on an immediate basis.

Kalsubai Peak and trekking route is sacred to all Maharashtrians anyone caught smoking or consuming alcohol will be at the mercy of locals. 
24. Can we listen to music on Bluetooth speakers? 
Listening to music on earphones or Bluetooth speakers is not allowed while trekking to Kalsubai, Bluetooth speakers not allowed inside the homestay.

Please enjoy the sound of nature on the trek.

Trek leaders keep giving instructions throughout the trek you will miss important communication if listening to music. 
25. How do I make payment?
You can pay online on our website by clicking on the book now tab. 
26. Kalsubai hotels - Kalsubai Homestay? Places to stay near Kalsubai?
Local villagers offer dormitory homestay
List of Hotels near Kalsubai Peak Bhandardara
MTDC Bhandardara

Anandvan Resort

Yash Resort

Hotel Samadhan
You can also camp with us at Bhandardara after your trek. Kalsubai peak in India map is available inside our photogallery. 
In case your question is not listed above you can email us: highfive@treksandtrails.org 
27. Kalsubai trek from Mumbai? 
During monsoon, we arrange Kalsubai trek from Mumbai and Thane via a private bus. After the monsoon, we arrange Kalsubai Night Trek from Kasara Railway Station. How to reach Kalsubai from Mumbai using the private car we will provide you with the GPS location of the base village. 
Kalsubai night trek from Mumbai is available via private bus during the rainy season. Due to heavy truck traffic, there are chances of missing the Sunrise if we travel via Bus options. 
28. Kalsubai trek from Pune?
During monsoon, we arrange Kalsubai trek from Pune via a private bus. After the monsoon, we arrange Kalsubai Night Trek from Kasara Railway Station. The total trek distance is 6.6 km one way. 
29. Kalsubai trek Height?
Kalsubai peak also known as the Everest of Maharashtra. Kalsubai is the highest in peak Maharashtra. Kalsubai Shikhar located at 5400 Feet above sea level. Height of Kalsubai in meters 1645 above sea level. Long trek involves three to four hours of uphill walk one way. Kalsubai night trek is safe our expert team will guide you and help you complete the trek. 
30. Kalsubai hill Station?
Kalsubai Shikhar is located at Bhandardara, Kalsubai Harishchandragad Wildlife Sanctuary. Weather is pleasant and it offers beautiful views of Wilson Dam, Bhandardara Lake, Ghatghar Dam, Sahyadri forts, Deep valleys. Plans have been discussed to convert Kalsubai into a hill station with the ropeway. Bhandardara to Kalsubai peak, we can arrange for Bhandardara camping and Kalsubai camping together as a custom event for large groups. Kalsubai altitude 5400 feet above sea level.Kalsubai trek km is 6.6 one way. 
31. Kalsubai trek from Mumbai by train? How to reach Kalsubai?
We shared the train timings for Kasara Train on the central railway in the itinerary. Our Trek Leaders will meet you at Kasara Railway Station. You will now proceed to base village in Local jeeps. Trek will start at Bari Village. After the trek participant will be dropped back at Kasara Railway  Station. You can now proceed to Mumbai or Pune using local trains. Cst to Kasara Railway Station ticket will cost Rs 60 for the return ticket. 
32. About Kalsubai Temple?
Kalsubai peak history is very beautiful. Kalsubai Summit is home to the divine Kalsubai temple of a local goddess. The priest performs prayers every Thursday and Tuesday at the temple. During the Navratri Festival, locals visit the local deity in thousands. Beautiful fair created for the devotees with locals installing stalls near the peak.  You can buy pooja supplies, snacks, water bottles. Kalsubai temple is also available when you start the trek a few minutes into your hike — built for Devotees who find it hard to climb till the summit. MT Kalsubai trek distance from the base village is 5.5 km one way. Kalsubai trek time taken one way will be 3 to 4 hours. Kalsubai Shikhar height 1646 meters above sea level offers stunning views. 
33. Can you share the latest Kalsubai Trek Photos? 
We have an upload Kalsubai images for the trek and video to help you understand our trek operations and trek details. Please click on the Kalsubai Photos Gallery. Kalsubai trek route map is available with us it will help you understand your the long trek route. For the latest Kalsubai trek photos you can whatsapp us 8828004949. The hike is a popular destination for trekking near Mumbai kindly book in advance.
34. No of days required for Night Kalsubai trekking and camping?
Kalsubai trekking and camping requires two days and one night. Kalsubai height from sea level is 5400 feet. Fog city Igatpuri to Kalsubai Hill is 35 km by road. Kalsubai to Pune is 180 km by road, a total of 6 hours driving. Kalsubai trek details can be found in our detailed itinerary. We send our well-trained trek guides on our hiking events, unlike other ticketing companies where your trek guides' experience and training level is unknown and hiking company details are not available. Kalsubai sunrise trek is available during winter and summer months only. 
35. Kalsubai Trek quotes?
Below are few quotes which will perfectly match your trekking experience on the beautiful mountain. 
"Travel isn't always pretty. It isn't always comfortable. Sometimes it hurts, it even breaks your heart. But that's okay. The journey changes you; it should change you. It leaves marks on your memory, on your consciousness, on your heart, and on your body. You take something with you. Hopefully, you leave something good behind." – Anthony Bourdain
" Feel the fear and do it anyway "
" The best views come after the hardest climb"
36. Kalsubai night trek review?
With over 10000 trekkers in Maharashtra choosing us each year you can check our reviews on Google. We have good support from locals and a robust trained team of trek leaders. We also conduct customized treks for corporates, large groups, gyms, housing societies, and organizations. We operate our own treks, unlike many cheap operators who will pass on your booking to another trekking company without verifying the credentials of the trekking company. Your safety is in your own hand choose wisely your trekking company and never comprise on safety and support companies operating fairly.  Our trek leader shares local slope knowledge, your interaction with trek guiders will increase your overall trek experience. Night trekking can be a strenuous trek if you come unprepared and unfit. Kalsubai peak images can be found in the image gallery. 
37. Kalsubai trek during monsoon when it will be available for booking?
Monsoon reaches Maharashtra by mid June to fully enjoy the monsoon trek to Kalsubai peak July is the best month. August the monsoon calms down a bit and you will get beautiful greenery everywhere. Please note there will be thick fog and high winds and continuous rains on this long trek route do pack your gadgets well and wear good hiking shoes.  Kalsubai sunrise trek is available during winter and summer months only a preferred trekking spots in India. Day trek is not available as the mountain has very less tree cover and weather is uncomfortable for day treks. 
38. Do you organise treks at Kalsubai peak on Independence day and Republic day? 
Yes, we do organize the treks on Independence day and Republic day at the peak they offer an epic sunrise views. Kindly take non biodegradable garbage like wrappers and bottles back to your origin city to avoid pollution at the forest sanctuary. Kalsubai trekking point is very popular on national holidays and attracts large crowds. 
39. Is the Kalsubai trek difficult? Is Kalsubai Trek safe?
Difficulty depends on each hiker's fitness level, trekking equipment and trekking experience. The trekking route is well marked, with many small dhabas offering butter milk, Maggi, poha, and lime water for refreshments. 
Making the hike more manageable and more enjoyable for new trekkers. The trekking route has been made safer with iron ladders and iron chains to assist hikers in climbing the difficult rock patches. Kalsubai monsoon trek is top-rated in Maharashtra. 
Kalsubai Trek Detailed Information
Have you been trekking in the Sahyadris for quite some time now? Do you want to challenge yourself and test your abilities with a gruelling and upbeat trek? If your answer is yes, then look no more! Kalsubai Trek in Maharashtra is everything that you are looking for. Renowned as the highest peak in Maharashtra, Kalsubai has the most enthralling views from its summit and is swarmed by avid trekkers. Owning to its surging highness, the trek to Kalsubai is relatively long and enduring as well as mighty rewarding to the ones who choose to climb it.
Falling under the jurisdiction of Kalsubai-Harishchandragad Wildlife Sanctuary, it is nestled in the Akole Taluka of Ahmednagar. The 5400 feet tall Kalsubai Peak is among the most popular treks in Maharashtra. Do you ask what makes Kalsubai unique from other treks? We say nothing beats the feeling of standing on the tallest mountain in Maharashtra and marvelling at the most beautiful sunrise.
The trail to the highest peak in Maharashtra is sprinkled with dense green jungles, vibrant wildflowers, savannahs, and paddy fields creating a dreamlike experience for nature enthusiasts and adventure buffs. Demanding yet brimming with joy, the trek to Kalsubai Peak includes rambling on muddy trails, ascending rocky terrain and climbing ladders. Every bit of effort put to climb Kalsubai will invigorate your muscles and fill your lungs with clean fresh air.
The summit of Kalsubai is filled with tranquillity and spirituality attributing to the presence of serene mountains and a sacred temple. Do you want to accomplish something this weekend? Pack your backpacks and sign up with Treks and Trails to climb the Mount Everest of Maharashtra which is Mount Kalsubai that offers sweeping uninterrupted views of Sahyadri Mountain ranges and Bhandardara backwaters. Kalsubai trek distance is 5.5 kilometers from the base village of Bari. 
Which one is the highest point in Maharashtra?
Kalsubai Peak is the highest point in Maharashtra. 
Which is the best time to plan a trek to Mount Kalsubai?
Kalsubai is a trek that is visited throughout the year by trekking enthusiasts, temple devotees and wildlife fanatics. It depends entirely on the kind of experience you are looking for.
Can we plan a trek to Kalsubai in the monsoons? 
If you want to experience the thrill of a monsoon trek then June to August are the best months to visit Kalsubai. During the monsoon months, the trail to Kalsubai becomes alive with lush greenery, numerous streams and waterfalls gushing through mountains, floating clouds and a mist draped summit. One must be prepared to face a torrential downpour, strong winds and a slippery path. If you are opting for a monsoon trek to Kalsubai it is recommended to wear sturdy trekking shoes and windproof jackets.
How is Kalsubai in the post-monsoon months?
The months of September to October witnesses a dramatic makeover at Kalsubai as it is enveloped with wildflowers in myriad hues. You will find flowers of different varieties blossoming along the landscape. This attracts swarms of butterflies, bees, dragonflies and other insects to feed upon the precious nectar of florae. You get to experience hiking on plains with an expansive assortment of flowers that are similarly found at Kaas plateau. The clear weather during these autumn months presents the trekkers with crisp perspectives on the surrounding peaks and forts.
How are the winters at Mount Kalsubai?
November to February are the best months if you want to experience freezing mountain winters in Maharashtra. The temperature at Kalsubai drops as low as 8 to 10 degrees. During winters a night trek to Kalsubai is the best way to experience the winter, night skies and the milky-way. It gets very cold accompanied by strong winds atop Kalsubai before sunrise. As the dawn progresses gaze at the morning sun rays painting this windswept place with orange hues. One can also find reptiles like lizards and snakes sunbathing near the ladders in the winter months.
Is it advisable to hike Kalsubai during the summers? 
The summers at Kalsubai are experienced from March to May. The options of both night and day trek are available during summers. If you opt for a day trek, aim to be at the peak by evening when the sun sets behind the lush mountains, creating a magically beautiful landscape that makes it a sight to behold! One can also find hordes of fireflies during May at Kalsubai after dark. And, if you're considering a night trek, aim to be at the peak in the morning as you'll be making a memory of a lifetime, watching the sun gloriously rise behind the mountains whilst the mist uncovers the valley below.
What is the difficulty level of Kalsubai Trek?
Kalsubai is a moderate difficulty level trek. We can call it enduring but not difficult as it not does have any rock climbing patches or requires technical mountaineering skills. Kalsubai is a long trek of 12 kilometres of ascent and descent and requires hiking up an inclined slope for long hours. It tests the patience as well as stamina levels of the ones who chose to climb it. There are several ladders and steel railings fixed by locals, that have made it fairly easy to reach the summit of Mount Kalsubai.
Can beginners plan a trek to Mount Kalsubai?
The Kalsubai trek offers the perfect balance of pleasure and adventure. With no technical patches, this trek can be undertaken by beginners with good fitness. In fact, even children can hike to Mount Kalsubai. Everyone should definitely give Kalsubai trek a go as it is worth every shot. It provides a perfect opportunity for both hikers and beginners to explore their adventurous side. Mumbai trekking and Pune trekking scene has exploded in recent years with many youngsters taking up mountaineering, Kalsubai has inspired generations of trekkers over the years. 
A summary of Kalsubai Night Trek Maharashtra highest peak with Treks and Trails
After reaching the base village of Mount Kalsubai which is Bari village, we will freshen up and have some hot beverages. Post that, our trek leaders will brief you about the trek and explain all the dos and don'ts. We will also be doing a small warm-up session after which we will start our trek to Kalsubai top.
Kalsubai trek is long and can take up to 4 hours; the hiking trail is 6.6 km from Bari village. The trek to Kalsubai can be divided into 3 sections. When we arrive at the carved steps and then the ladder, we would have covered 1/3rd of the trek. After the ladder, there are steel railings and when all the steel railings are completed, we will reach a plateau, which marks the completion of 2/3rd of the trek. Now the remaining segment of inclined walk from the plateau and the final latter till Kalsubai summit is the final part.
The night hike of Kalsubai will be gratifying when we reach the top. It takes a lot of dedication to get to the top of the summit, which is when you feel "on top of the world". We will reach the top very early in the morning so there is plenty of time to rest and explore the place. And wait until the sun rises and be fascinated by the enchanting sight. Surrounded by greenery all around, this summit offers an unobstructed view of the neighbouring peaks.
Fascinating things to see from the top of Mount Kalsubai in the Sahyadri mountains
No sooner than you reach the summit, you will be greeted by the sight of a sacred temple. Offer prayers to the deity of Kalsubai. Open forests of high altitudes dominate the apex of Kalsubai. Enjoy panoramic views of the region featuring mountains, lush vegetation, and beautiful bodies of water. These views are sure to make you forget everything about the uphill trek. Immerse yourself in the breathtaking view of Bhandardara's backwaters and Lake Arthur. Spot the nearby hills, forts, and mountains in Maharashtra of Alang Madan Kulang forts, Harishchandragad, Ratangad, Ajoba, and Harihargad. If you are looking at Trekking in Mumbai, then Kalsubai trek is the most famous in Maharashtra.  
Highlights of the Treks and Trails Kalsubai trek
The route to the Kalsubai peak is marked by blossoming green fields, rocky terrains, as well as high altitude forests. The holy Kalsubai temple on the top of the summit, mesmerizing views from the peak, as well as the gorgeous sunrise from Kalsubai mountain, makes for one precious memory for a lifetime. After the completion of the entire trek, you will be served mouth-watering food at a local's house.Noting surpasses the feeling of climbing the highest peak of Maharashtra. The adrenaline while climbing and on the top of the summit is at its peak.The scenic trail offers a great opportunity for landscape photography. You can click pictures of the Western Ghats and if you go trekking in autumn, click pictures of flowers along the trekking trail. Eating a well-rewarded breakfast of Poha, Maggi and Kanda bhaji at the tallest mountain in Maharashtra. The surreal greenery, breathtaking beauty and blissful environment on the trek to Kalsubai are going to be a treat to sore eyes.Treat your lungs with fresh oxygen and let your muscles get the physical activity which it never got in the city. Make new friends and everlasting memories on this adventurous trek to Kalsubai.
What are some of the places we can visit post our trek to Kalsubai?
There are numerous thrilling and scenic places to visit Kalsubai, such as Bhandardara Lake and Wilson dam, Vaitarna Lake, Sandhan Valley, Amruteshwar temple, Randha Waterfalls, and Umbrella Waterfalls, as well as Ratangad Fort and Kalsubai-Harishchandragad Wildlife Sanctuary. Many famous treks near Mumbai located near कळसुबाई शिखर, which is the highest point in Maharashtra. 
Which is the highest peak in India? 
The highest mountain peak in India is Kanchenjunga at 8,586 meters or 28,169 feet above sea level located in Himalayas, Sikkim, India. The highest mountain in India is the third highest mountain in the world. The highest peak of India as also referred to in Sikkim as "The Five Treasures of Snows", in reference to its five peaks. India highest peak Kanchenjunga nearby forest serves as the home of the Red Panda and other montage animals, birds, and plants.
How to go to Kalsubai from Mumbai?
We arrange Borivali to Kalsubai to Borivali private bus travel. This option is available mainly during the monsoon season. After the rainy season, we place the Kalsubai trek from Kasara railway station to reach early for the Sunrise. 
Please note: There is heavy traffic between Thane and Bhiwandi which will cause delays during bus travel which is entirely out of our control.