Kalsubai Night Trek Highest Peak of Maharashtra
Kalsubai Peak Night Trek
Kalsubai Peak Trek with a height of 1646 meters or 5400 Feet is famous as the highest peaks in Maharashtra. Kalsubai Mountain lies in the Sahyadri mountain range falling under Kalsubai Harishchandragad Wildlife Sanctuary. Kalsubai Height being the highest peak, it commands a beautiful view. Since Bhandardara Dam and Kalsubai Peak is extremely famous, enough effort has been made to make this trek easy. There are steel railings, chains, and ladders at places where it is difficult to climb. 
Please Note
Saturday 12:15 am = Train journey will start from Friday night and you will reach on Kalsubai summit on Saturday 6 am to watch the sunrise.
Sunday 12:15 am = Train journey will start from Saturday night and you will reach on Kalsubai summit on Sunday 6 am to watch the sunrise.
Please book accordingly. 
Kalsubai Trek Event Details
Kalsubai Trek Difficulty Level Medium 
Kalsubai Trek Endurance Level High
Base Village Kalsubai Trek - Bari
Region: Igatpuri / Bhandardara
Total time required for climbing Kalsubai Peak 4 hours one way
Duration 1 Night 1 Day
Climbing Kalsubai Trek Distance 5.5 km one way
Kalsubai Peak Height 1646 meters
Highest Peak of Maharashtra Kalsubai Peak in feet 5400 feet
Cost without Lunch: Rs. 799/- per person
Cost with Lunch: Rs 899/- per person
Located in Kalsubai Harishchandragad Wildlife Sanctuary
Kalsubai trek images to better understand the terrain. 
Kalsubai Trek Event Itinerary
Day Zero - (Friday or Saturday)
Mumbai Participant can board the below train please check on the phone app for platforms
Please board the below train and meet us at Kasara Railway Station near the Ticket counter 
21:32 CSMT
21:40 Byculla
21:50 Dadar
22:00 Kurla
22:06 Ghatkopar
22:27 Thane
22:50 Dombivali
23:01 Kalyan
00:11 Kasara
Pune Participants can meet us at Kasara Railway Station 
Board Indrayani train from Pune at 18:35
Reach Kalyan 21:00 (have dinner before you board the train)
Board local train till Kasara.
Day One - (Saturday or Sunday)
00:15 Assemble at Kasara Railway Station near the ticket counter.
00:20 Travel from Kasara Railway Station to Bari Village by Local Jeep.
02:30 Reach Bari village Kalsubai
03:00 Commencement of the Kalsubai mountain trek after briefing and a short introduction.
07:00 Reach Mount Kalsubai Shikhar, explore the summit and enjoy the sunrise from the top.
Have a Breakfast.
09:00 Start descending towards base village 
12:00 Reach base village and Lunch.
13:00 Travel by Jeep from Bari Village to Kasara Railway Station.
15:00 Reach Kasara railway station and disperse.
Please Note
People may board the same train from their respective stations of convenience.
Missing the train is missing Kalsubai Shikhar Trek, no refund will be provided.
1 Night 1 Day
01 Nov, 07 Nov, 08 Nov, and more
Inclusions/Exclusions
What we'll give/What we won't
What is included in the tour
1 veg Breakfast and 1 veg Lunch
Kasara to Kasara travel by local jeep
Trek Leader expertise charges
What is NOT included in the tour
Travel till Kasara and back
Mineral water/lime water/ purchased for personal consumption
All kinds of Extra Meals / soft drinks ordered
Any kind of personal expenses
Any kind of cost which is not mentioned in the cost includes above
All expenses incurred due to unforeseen and unavoidable circumstances like roadblocks, bad weather
Any medical / Emergency evacuations if required
Things to Carry
Things to Carry
2/3 Liters of water
Some Dry fruits / Dry Snacks / Energy Bars
Glucon D / ORS / Tang / Gatorade sachets
Good Torch must with an extra battery
Trekking Shoes provide more grip and comfort on the trek
One Day Backpack 20 to 30 liters
Sun Cap and Sunscreen
Personal First aid and Personal Medicine
Identity Proof
Please wear Full sleeves and Full Track Pant this will protect from Summer Sun / Thorns / Insects / Prickles
Cancellation Policy
75% refund if notified via phone conversation 8 or more days prior to the event date.
50 % refund if notified via phone conversation 4 to 7 days prior to the event date.
No refund if the cancellation requested is less than 3 days prior to the event date 
No show No Refund.
Event Tickets cannot be transferred to another date against cancellation.
Event Tickets cannot be transferred to another person against cancellation.
If Trek gets canceled we will refund "Trek Amount" only.
Event Updates
Whatsapp Broadcast list regular update 
Step 1: Save number in your phone book Treks and Trails India - 8828004949
Step 2: Ping us your name and email 
Congratulations you will receive regular event updates now 
Email - connect@treksandtrails.org
Facebook Page - https://www.facebook.com/TreksandTrailsMumbai
Meetup - http://www.meetup.com/TreksandTrails-Mumbai-Meetup/
Twitter - https://twitter.com/treksNtrailsInd
https://www.instagram.com/treksandtrails/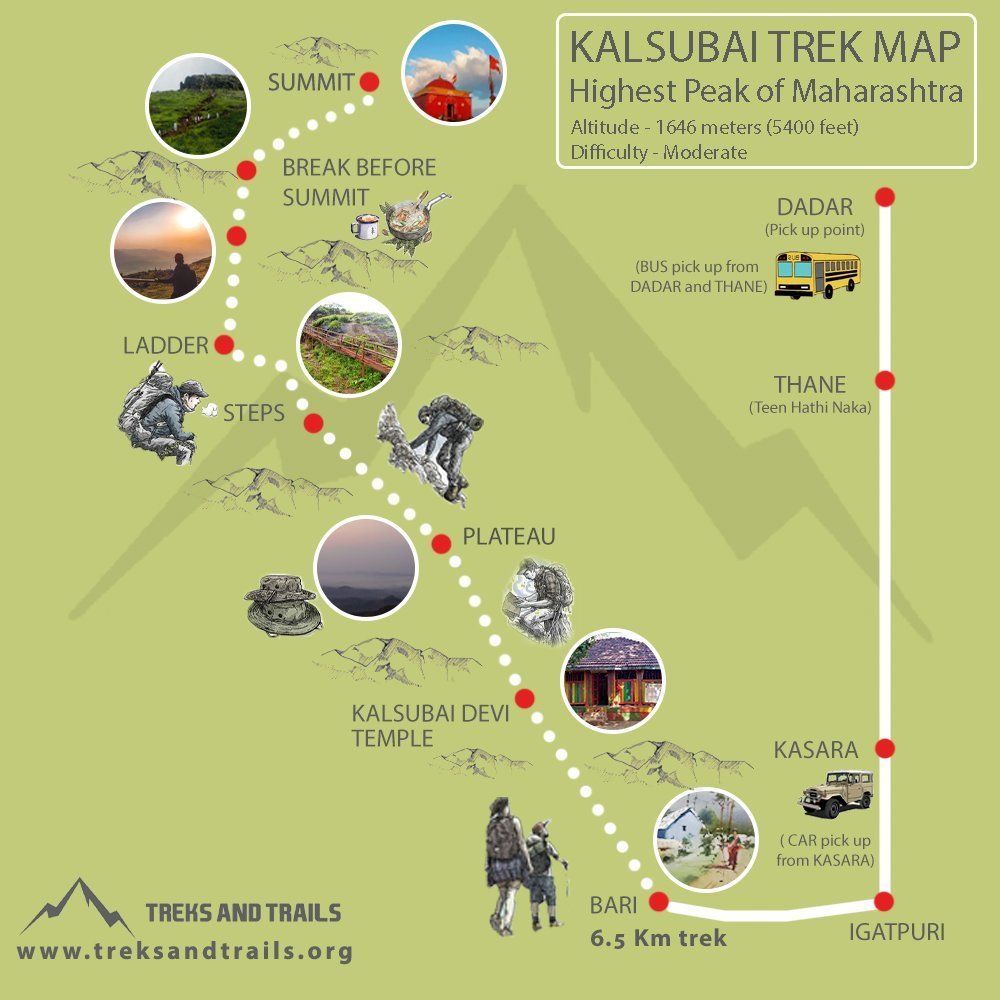 FAQ
Frequently Asked Questions
How to go Kalsubai from Mumbai?
The meeting point for this trek will be at Kasara Railway Station during winter and summer. We have mentioned the train timing in the itinerary. Kindly boarded the train accordingly. Our trek leader will meet you at Railway Station near the ticket counter. From here we will move towards the base village in our jeeps. Mumbai to Kalsubai is well marked on google maps. Kalsubai trek Mumbai travelers is the most famous destination. 
In case you are travelling in your vehicle till Bari village, we request you to reach on time. We will provide you with the google maps location till Bari village. Please note the road till the base village is under repair and bad condition. There is a low network or no network in this region in case of car breakdown at night it will be challenging to find help. Kalsubai distance from Mumbai is 155 km. Igatpuri to kalsubai distance is 33 km roads in bad condition.
How to reach Kalsubai from Mumbai by Train we have mentioned the train timings in the itinerary. Meet us at Kasara from here we will proceed in local jeeps till the base village. Mumbai to Kalsubai by train nearest station Kasara. 
How to go Kalsubai from Pune?
By train, you need to reach Kalyan Railway Station and board Kasara Local from Kalyan. We have mentioned the train timings in the itinerary. After reaching Kasara Railway Station, our trek leader will meet you at the ticket counter.  We will proceed from here in local jeeps till base village Bari which is the starting point for Kalsubai Location. 
By Car Pune to Kalsubai, we will share with you the google map navigation details you can follow it to reach Bari village. It will take a good five hours to reach till Bari Village the starting point of Kalsubai Igatpuri Trek. Kalsubai Pune road's last 60 km is not in good condition. Pune to Kalsubai trek is available for booking. Pune to Kalsubai bus is the best option to reach the base village. Pune to Kalsubai distance 180 km, six hours of driving.   
Kalsubai Map - Drive Through Map?
Please refer to google maps or google earth. We will send you the google maps navigation link after your booking is completed. You can follow the navigation to reach till Bari Village which is the starting point for Kalsubai trek Maharashtra. Mount Kalsubai Bhandardara cannot be reached by car you will have to hike the last 5.5 km uphill. 
What is the Kalsubai Trek batch size regularly?
Usually, each Kalsubai Night trek group has 10 - 40 people which comprises women, men, children, solo travelers. We send trek leaders as per the batch size to make sure you enjoy your trek and receive proper guidance whenever needed. Bigger the group more the fun, our trek leader engages with trekkers and traveler to keep the group motivated. Kalsubai Shikhar video is available in the photo gallery you can watch it to understand more about the trek. Night trek to Kalsubai is the most popular trek in Maharashtra. Kalsubai elevation 1646 meters makes it a real point to observe the sunrise. 
Do you provide pick up and drop service from Mumbai or Pune for Kalsubai Trek? 
During Winter and Summer seasons trekkers will have to reach till Kasara Railway Station and meet our guide. The guide will bring you till base village in Local jeeps you will be sharing the vehicle with other trekkers.  In case you are coming in a car you need to reach on time till Bari Village using google maps location provided by us. 
I am a Female traveler or Solo traveler can i join Kalsubai Night Trek? 
Kalsubai Trekking route is very safe for female trekkers, locals are very friendly. Our team will take care of your safety and your Kalsubai trekking experience. Kalsubai base village Bari is well known for its hospitality and safety. 
Distance from Mumbai Kalsubai - highest peak in Maharashtra?
Four hours drive from Mumbai - 155 km approx. The road is under repair in certain sections and in bad condition. After you enter the state highway mobile network is not available for most parts of your journey. 
Distance from Pune Kalsubai highest peak in Maharashtra?
Five hours drive from Mumbai 180 km approx. Located inside the Kalsubai Harichandragad Wildlife Sanctury.   
The number of days required for Kalsubai trekking?
One day and One Night is required to complete the Kalsubai Night Trek. During monsoon, the trek is held early morning due to dense fog covering the peak. During winter and summer, it is advised to summit Kalsubai around dawn to avoid intense heat during the day. Kalsubai trek pics are available in the photo gallery you can click on the button to see more. Trekking Kalsubai has become relatively easy for regular hikers. 
Where can we park our cars near the Kalsubai Maharashtra trek?
Base Village at your own risk. Locals might ask for parking fees. There are no designated parking areas around the village. Kalsubai Height in feet 5400 feet. Mumbai to Kalsubai distance 155 km. 
Is there any parking charge at Kalsubai Village?
Yes. Locals might collect a parking charge from you. 
8. Do you provide sleeping bags?
Sleeping bag NO - For hygiene reasons we don't provide sleeping bags. incase you need to rent sleeping bags please email us highfive@treksandtrails.org 
9. Are Toilet Available on Kalsubai Mountain?
Not available During the trek toilets are not available on Kalsubai Fort Trek. You will need to go into the open. Provision for toilet tents will be made at Villagers House - eastern style commode. There is a scarcity of water so English toilets are not available. 
10. Do Single Travellers Female signup for these events?
      We have 60 - 40 % or more Male - Female ratios on our events 
      Many Single Travelling Female join our events 
      We also send female trek leaders whenever possible and available to lead. 
11. Are Kids allowed on treks?
      Kids below 15 with Parents supervision only. We have had 5 years old kids complete the trek with their parents in the past. 
12. What type of food will be provided?
      Food preference only Veg local home-cooked is available. On top, we provide breakfast Poha, and Tea. 
13. Phone Connectivity?
      Limited phone connectivity available for most cellular services
14. Where will we stay?
      No Homestay is required for this event. We will only stop at the base village for some time for introduction and instruction to be given by the trek leader. Stay will not be required on the trek. In case you want to spend more time at Kalsubai we have Kalsubai Camping Trek available at Mount Kalsubai hill station.
15. Is cash payment or spot payment accepted?    
Cash payment is not accepted.
Registration against 100% upfront payment only via Paytm / UPI / NEFT / IMPS / Payment Getaway on the spot      payment not accepted.
We need to book in advance bus/jeep and make other arrangements upfront payment is a must 
Mumbai to Kalsubai trek is organized by Treks and Trails India every weekend. 
16. Will I get bottled water at Kalsubai- highest peak in Maharashtra?
      Normal well water shall be provided. Villagers now sell bottled water on the route on weekends. Please carry a reusable water bottle it helps in reducing waste on the slopes. You can refill your bottles at the base village. 
17. Can I charge my phone?
      No electricity. Please carry a power bank if required. 
18. How is the Kalsubai weather now?
 Kalsubai weather forecast depends on the season we have listed them below. 
Summer Kalsubai Temperature Night 17- Day 39°C approx. It is extremely windy at the summit and cold. 
Monsoon rains very heavily please double pack your expensive phones and gadgets 
Winter Kalsubai temperature is 10 to 20 degrees and very windy please carry a windproof jacket for the summit. 
19. Can we smoke or drink alcohol?
People caught smoking or drinking alcohol will be asked to exit the event on an immediate basis.
Kalsubai Peak and trekking route is sacred to all Maharashtrians anyone caught smoking or consuming alcohol will be at the mercy of locals. 
20. Can we listen to music on Bluetooth speakers? 
Listening to music on earphones or Bluetooth speakers is not allowed while trekking to Kalsubai, Bluetooth speakers not allowed inside the homestay.
Please enjoy the sound of nature on the trek.
Trek leaders keep giving instructions throughout the trek you will miss important communication if listening to music. 
21. How do I make payment?
      You can pay online on our website by clicking on the book now tab. 
22.  Kalsubai hotels - Kalsubai Homestay? Places to stay near Kalsubai?
       Local villagers offer dormitory homestay
       List of Hotels near Kalsubai Peak Bhandardara
MTDC Bhandardara
Anandvan Resort
Yash Resort
Hotel Samadhan
You can also camp with us at Bhandardara after your trek. 
In case your question is not listed above you can email us: highfive@treksandtrails.org 

23. Kalsubai trek from Mumbai? 
During monsoon, we arrange Kalsubai trek from Mumbai and Thane via a private bus. After the monsoon, we arrange Kalsubai Night Trek from Kasara Railway Station. How to reach Kalsubai from Mumbai using the private car we will provide you with the GPS location of the base village. 
24. Kalsubai trek from Pune?
During monsoon, we arrange Kalsubai trek from Pune via a private bus. After the monsoon, we arrange Kalsubai Night Trek from Kasara Railway Station.
25. Kalsubai trek Height?
Kalsubai peak also known as the Everest of Maharashtra. Kalsubai is the highest in peak Maharashtra. Kalsubai Shikhar located at 5400 Feet above sea level. Height of Kalsubai in meters 1645 above sea level. 
26. Kalsubai hill Station?
Kalsubai Shikhar is located at Bhandardara, Kalsubai Harishchandragad Wildlife Sanctuary. Weather is pleasant and it offers beautiful views of Wilson Dam, Bhandardara Lake, Ghatghar Dam, Sahyadri forts, Deep valleys. Plans have been discussed to convert Kalsubai into a hill station with the ropeway. Bhandardara to Kalsubai peak, we can arrange for Bhandardara camping and Kalsubai camping together as a custom event for large groups. Kalsubai altitude 5400 feet above sea level.
27. Kalsubai trek from Mumbai by train? How to reach Kalsubai?
We shared the train timings for Kasara Train on the central railway in the itinerary. Our Trek Leaders will meet you at Kasara Railway Station. You will now proceed to base village in Local jeeps. Trek will start at Bari Village. After the trek participant will be dropped back at Kasara Railway  Station. You can now proceed to Mumbai or Pune using local trains. Cst to Kasara Railway Station ticket will cost Rs 60 for the return ticket. 
28. About Kalsubai Temple?
Kalsubai Summit is home to the divine Kalsubai temple of a local goddess. The priest performs prayers every Thursday and Tuesday at the temple. During the Navratri Festival, locals visit the deity in thousands. Beautiful fair created for the devotees with locals installing stalls near the peak.  You can buy pooja supplies, snacks, water bottles. Kalsubai temple is also available when you start the trek a few minutes into your hike — built for Devotees who find it hard to climb till the summit. MT Kalsubai trek distance from the base village is 5.5 km one way. Kalsubai trek time taken one way will be 3 to 4 hours. Kalsubai Shikhar height 1646 meters above sea level. 
29. Kalsubai Trek Photos? 
We have an upload Kalsubai images for the trek and video to help you understand our trek operations and trek details. Please click on the Kalsubai Photos Gallery. 
30. No of days required for Kalsubai trekking and camping?
Kalsubai trekking and camping requires two days and one night. Kalsubai height from sea level is 5400 feet. Igatpuri to Kalsubai Hill is 35 km by road. Kalsubai to Pune is 180 km by road, a total of 6 hours driving. Kalsubai trek details can be found in our detailed itinerary.