Rajmachi Fort Lonavala
Rajmachi Fort is a historical fort having two stronghold forts in Lonavala. Forts of Rajmachi Lonavala are Shrivardhan and Manaranjan. Visible from Mumbai Pune Expressway on the right-hand side of Borghat, which is a popular spot near Khandala known as Rajmachi View Point. Rajmachi is a famous spot for trekking in popular Lonavala Hill Stations. Lonavala to Rajmachi Fort is a 16 km trekking distance from Lonavala. There are many routes to reach Rajmachi Fort. We will be camping at Udhewadi Village located below the two Balekilla only during winter and summer months. You can see the beautiful Kataldhar waterfall from Shrivardhan Fort. Rajmachi Fort near Karjat has many caves used by trekkers for night halt. Rajmachi Fort is located strategically overlooking Borghat a historical trade route in Sahyadri Mountains. Popular among trekkers of India as one of the best trekking places in Maharashtra.
Places to visit at Rajmachi Fort
Udaysagar Lake constructed in 1712.
Temple of Mahadev by the side of Udaysagar Lake.
Temple of Bahiroba on the plateau near Shrivardhan and Manaranjan.
Rajmachi trek Fireflies at the end of Summer around May and June 
Kataldhar waterfall views from Shirvardhan Fort
Shirota Lake views from Shirvardhan Fort
Rajmachi and Kondana Caves Trek Event Details
Height of fort: 2710 feet approx.
Nearest City Lonavala.
Shivardhan Fort Exploration.
Local Village Food.
Separate Stay for Females.
Cost: Rs 1600/- per person
Rajmachi & Kondhane Caves Event Itinerary
Day 1 – Saturday
How to reach Rajmachi Fort from Mumbai
Mumbai Participant please board Sinhagad Express 11009 – Mumbai to Pune.
Sinhagad express timing
14:30 CSMT
14:41 Dadar
15:03 Thane
15:28 Kalyan
16:08 Karjat
17:03 Lonavala
How to reach Rajmachi Fort from Pune 
For Pune participants - Catch Pune – Lonavala local
15:00 Pune
15:04 Shivaji Nagar
15:47 Talegaon
16:25 Lonavala
Rajmachi Trek Short Itinerary 
17:15 Assemble at Lonavala Railway Station and Move towards base village by Jeep (Half Way).
19:00 Start Rajmachi Night Trek towards the base village around eight km trek.
22:30 Reach Base Village and settle in the homestay. 
22:45 Dinner Home-cooked veg meals. 
Day Two - Sunday Rajmachi Trek
06:30 Wake up and freshen up
07:00 Breakfast.
07:30 Start ascending Shrivardhan Fort.
08:30 Reach on top. Explore the fort and watch the sunrise.
09:30 Start descending.
10:30 Reach at base village.
Visit Udaysagar lake and temple.
12:00 Lunch.
13:00 Start descending towards Karjat side.
Visit Kondhane Caves.
17:30 Reach Kondhane village and start the journey towards Karjat station by local vehicle.
18:30 Disperse at Karjat railway station
Please Note
People may board the same train from their respective stations of convenience.
Missing the train is missing Rajmachi and Kondhane Caves Trek, no refund will be provided.
1 Night 2 Days
Available on request
Udhewadi, Maharashtra
Inclusions/Exclusions
What we'll give/What we won't
What is included in the tour
Travelling Lonavala to base village by Jeep (Half Way).
1 Veg Dinner, Breakfast, 1 Veg lunch.
Villager House Homestay Dormitory.
Travelling Kondhane Village to Karjat Station
Treks and Trails expertise charges
What is NOT included in the tour
Travel till Lonavala and back from Karjat
Mineral water/lime water/ purchased for personal consumption
All kinds of Extra Meals / soft drinks ordered.
Any kind of personal expenses.
Any kind of cost which is not mentioned in the cost includes above.
All expenses incurred due to unforeseen and unavoidable circumstances like roadblocks, bad weather.
Any medical / Emergency evacuations if required.
Things to Carry
Things to Carry
2/3 liters of water
Trekking Shoes provide more grip and comfort on trek
Good Torch must with extra battery
Sleeping material (sleeping bag or 2 bed sheets)
Some Dry fruits / Dry Snacks / Energy Bars
Glucon D / ORS / Tang / Gatorade sachets
One Day Backpack 20 to 30 liters
Sun Cap and Sunscreen
Personal First aid and Personal Medicine
Identity Proof
Please wear Full sleeves and Full Track Pant this will protect from Summer Sun / Thorns / Insects / Prickles
Rains are expected, so pack your bags accordingly to save them from getting wet
Double pack your valuables/phones in plastic bags
Rainwear / Poncho / Waterproof jacket etc. if you don't want to get wet
Cancellation Policy
75% refund if notified via phone conversation 8 or more days prior to the event date.
50 % refund if notified via phone conversation 4 to 7 days prior to the event date.
No refund if the cancellation requested is less than 3 days prior to the event date 
No show No Refund.
Event Tickets cannot be transferred to another date against cancellation.
Event Tickets cannot be transferred to another person against cancellation.
If Trek gets canceled we will refund "Trek Amount" only.
Event Updates
Whatsapp Broadcast list regular update 
Step 1: Save the number in your phone book Treks and Trails India - 8828004949
Step 2: Ping us your name and email 
Congratulations you will receive regular event updates now 
Email - highfive@treksandtrails.org
Facebook Page - https://www.facebook.com/TreksandTrailsMumbai
Meetup - http://www.meetup.com/TreksandTrails-Mumbai-Meetup/
Twitter - https://twitter.com/treksNtrailsInd
https://www.instagram.com/treksandtrails/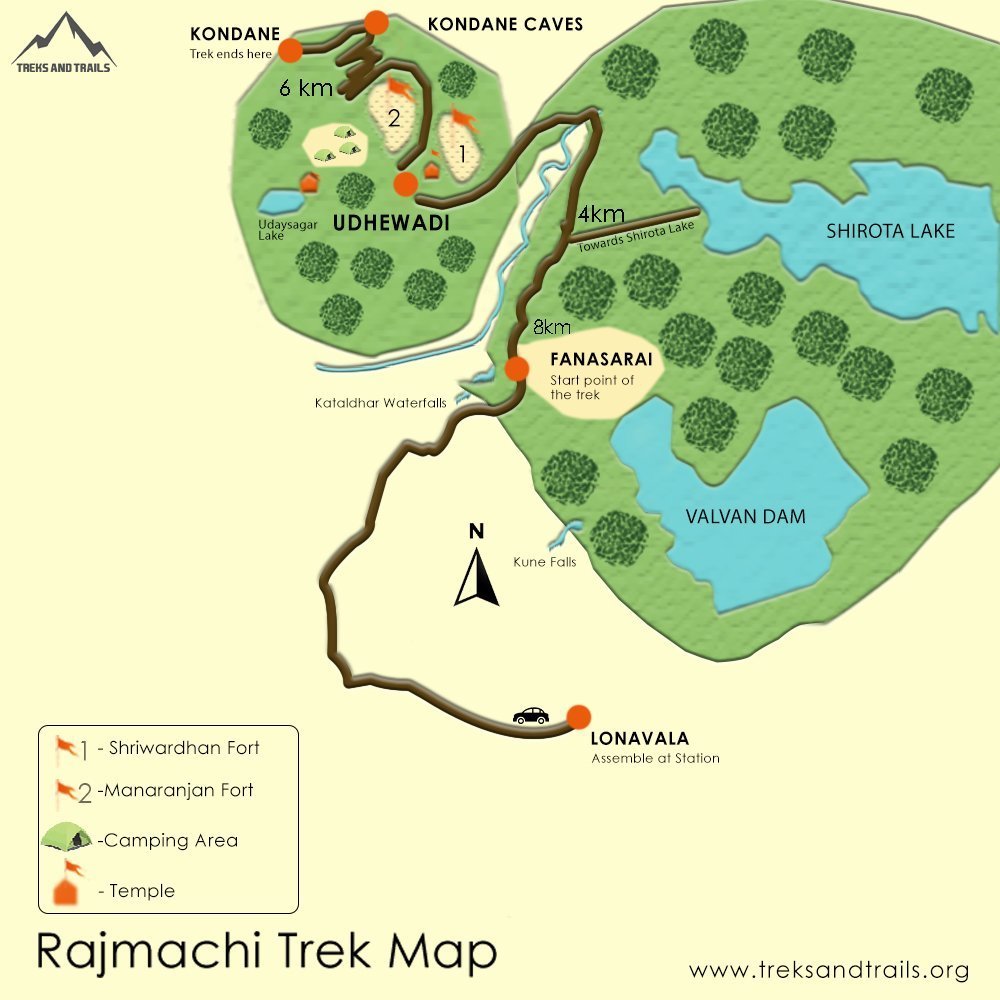 FAQ
Frequently Asked Questions
1. Can we drive to Rajmachi village?
     Not in monsoon, Roads are closed during monsoon by villagers.  
     After the monsoon, you can drive Rajmachi base village with good SUV Car only 
2. How far it is from Mumbai or Pune?
Three hours drive from Mumbai, 125 km approx. Two hours' drive from Pune around 70 km. From Lonawala it will take one hour to drive or four hours to trek from the railway station. 
3. The number of days required for this event?
    Two days and One Night will be required for Rajmachi Fort Trek. Rajmachi trek difficulty level is medium with high endurance levels. 
4. Where can we park our cars?
     Lonavala Maharashtra at your own risk. In case you drive till Udhewadi please make sure you have an SUV as the roads are in bad condition. Mumbai to Rajmachi driving distance is 100 km. 
5. Is there any parking charge?
    Yes payable to local forest officer. Parking fee and forest entry fees payable on arrival. 
6. Do you provide sleeping bags?
Mattress: Like Yoga Mat is provided, Sleeping bag: NO - For hygiene reasons we don't provide sleeping bags. Please carry personal sleeping material or two bedsheets it will be enough as the weather is pleasant. We can help you rent sleeping bags if required for Rajmachi Mumbai Trek.  
7. Is Toilet Available at the base village?
Provision for toilet tents will be made at Villagers House - eastern style commode. Please note during the trek there are no toilets available. There is no electricity in the village; please bring your torch to use the toilet at night.
8. Do Single Travellers Female signup for these events?
    We have 60 - 40 % or more Male - Female ratios on our events 
    Many Single Travelling Female join our events 
9. Are Kids allowed on treks?
    Kids below 15 with Parents supervision only
    Parents with small kids please call us before making a booking. 
10. What type of food will be provided?
      Food preference only Veg local home-cooked is available.
      Jain food is available kindly mention in comments your requirement. 
11. Phone Connectivity or Mobile Network during the Rajmachi Trek route?
      Limited phone connectivity is available for most cellular services after you gain height on the forts you will get good connectivity. Lonavala altitude is 625 meter above sea level. 
12. Where will we stay at Udhewadi Village?
Kindly note during monsoon tent stay is not possible under any circumstances 
Tent Stay available - Twin Sharing and Triple Sharing Tents available. ( WInter and Summer )  
The homestay will be in Dormitory Villagers house simple sleeping mat is provided during monsoon 
Homestay has an Indian Commode toilet as running water is not available. 
11. Is cash payment or spot payment accepted?
      Registration against 100% upfront payment only via Paytm / UPI / NEFT / IMPS / Payment Getaway on the spot               payment not accepted.
      We need to book in the advance jeep and arrange to stay and make other arrangements upfront payment is a must. 
12. Will I get bottled water?
      Normal well water shall be provided. Please bring reusable water bottles you can refill them. You can also buy bottles with filters like Lifestraw, Aquaguard ideal for trekking in Mumbai.
13. Can I charge my phone?
      Udhewadi village doesn't receive electricity. Please carry a power bank if required.  
14. How is the weather now?
      Summer Temperature Night 17- Day 39°C approx.
      Monsoon rains very heavily please double pack your expensive phones and gadgets    
15. Can we smoke or drink alcohol?
      People caught smoking or drinking alcohol will be asked to exit the event on an immediate basis.
16. Can we listen to music on Bluetooth speakers? 
      Listening to music on earphones or Bluetooth speaker is not allowed while trekking.
      Bluetooth speaker not allowed inside the homestay
17. How do I make payment?
      You can pay online on our website on how to register tabs. 
In case your question is not listed above you can email us highfive@treksandtrails.org 
18. Do you have any one day trek near Mumbai?
We have plans for Rajmachi Fort trek during winter and summer months for one day trek near Mumbai. Lonavala weather forecast during winter and summer months is plesant, ranging from 15 to 30 degrees Celcius. Lonavala to Rajmachi trekking distance is 16 kilometers. Lonavala height is 630 meters above sea level, a popular weekend destination near Pune Mumbai. Pune to Rajmachi India distance is 80 kilometers by road.    
19. List of recommended Lonavala fort treks? 
Recommended one-day treks near Lonavala. Trekking to these Lonavala Forts is famous during the rainy season.   
20. Famous Forts near Lonavala for trekking? 
Recommended few offbeat trekking destinations and few famous hiking Fort near Lonawala for trekking.  
Ghangad Fort
Tailbaila Fort
21.Rajmachi Trek from Pune? 
Pune participants can follow our itinerary for Rajmachi Trek from Pune. We create a whatsapp group you can coordinate with fellow hikers from Pune and travel accordingly. If we have Trek Leader Pune, you can coordinate with him and travel subsequently. Treks and Trails India is the leading trek organisers in Pune. Rajmachi fort from Pune distance is around 80 km. 
22. How to reach Rajmachi Fort from Lonavala station?
We have arranged jeeps till Fanasrai village from here we will trek till Udhewadi village around 3 hours of trekking. During Winter and Summer season, our vehicles go right upto the Udhewadi village. 
23. Do you arrange Rajmachi trek from Karjat?
We do arrange the Rajmachi trek from Karjat it is tough four hours uphill climb till the base village of Udhewadi. 2019 2020 Kondana Caves were banned so the trek was not possible as the trekking path goes through the same route for Kondana Caves. Xtreme Trekkers prefer this route it requires high endurance and fitness levels. Kondivade village is the starting point for Kondana caves trek and Karjat to Rajmachi Trek. Kondana caves route is well marked from Kondivade village homestays are also available in the hamlet. 
24. Can you tell me more about Rajmachi Point Lonavala? 
Located inside the Rajmachi garden Khandala, Offers excellent views of the Fort and Dukes nose. Rajmachi Point is popular among tourists around Sunset there are many Dhabas, Pottery shops, and chat shops available nearby. 
25. Can we complete Rajmachi Trek in one day? 
Yes, it is possible to complete the trek in one day though it is better to give two days to explore the forts and Kondana caves. For Rajmachi Fort images please click on the photo gallery on the top right corner of the event page. 
Rajmachi Trek 2020 | Rajmachi Fort Trek With Kondane Caves
Trek to Rajmachi Fort and Kondane Cave located near Lonavala offers a fantastic view of the Sahyadri mountains and the backwater of the Shirota dam. Rajmachi Fort is one of the many historical forts in the rugged hills of Sahyadri mountains. It consists of two twin fortresses Shriwardhan Ballekilla and Manaranjan Balekilla, with a wide machi surrounding the two Balekillas. Know detailed information about the Rajmachi Trek and camping including duration, base camp, best season, and explore waterfalls, temples & enjoy camping. Get information on Rajmachi India and a general trekking guide for Rajmachi Trekking. Camping near Rajmachi during the rainy season is not possible due to heavy rainfall and strong winds. Rajmachi Camping conducted from October to June. Rajmachi fireflies trek is available from May to June only before the monsoon starts when the fireflies are visible. 
Rajmachi Fort Maharashtra is one of the most famous forts around the Lonavala Trekking region. The height of this fort from sea level is 2710 feet above sea level, and it offers a fantastic view of the Sahyadri mountains and the backwaters of Shirota Dam. Rajmachi is one of the many historical forts located amidst the Sahyadri forts, and it is a popular destination amongst nature lovers and tourists for trekking. The fortress of Rajmachi Maharashtra is famous among trekkers and adventure enthusiasts. If you want to experience a full-fledged trek, you can start from the side of the Kondhane cave which will take 4 hours of climbing. This is considered as one of the best treks in Maharashtra.
You can also drive right up to Udhewadi village from the Lonavala side and then trek for hardly 20-30 minutes to the top of the fort only possible during winter and summer months. Overnight Trek to Rajmachi Fort from Lonavala is adventurous during full moon night. Explore the flourishing forests of the Western Ghats. On this trek, you'll hike your way to the Kondhane Caves where you can see Buddhist inscriptions from centuries ago. Kondana Caves often banned during the rainy season due to huge crowds gathering near the waterfalls around the caves. Kondane Caves Waterfall Rappelling is also banned by the Archeological Survey of India.
Treks and Trails India invites you for a wondrous Rajmachi fort and Kondana Caves trek. Rajmachi Fort in Lonavala jewel in Sahyadri Forts overlooks Bor Ghat between Khandala and Khopoli, which was once a vital trade route. Shrivardhan Fort and Manaranjan Fort are its major attractions, luring numerous trekking enthusiasts all year round. Rajmachi Fireflies are only visible for a few weeks before the start of the rainy season. The best season to watch the fireflies while trekking in Maharashtra would be in the first week of June. Trek and Trail conduct self-operated trekking in Maharashtra. With over seven years of experience and holding adventure travel events throughout the year. You can rely on us for a safe trek with knowledge trek leaders and guides. Treks and Trails India is the leading trek organisers Mumbai. You can read about Rajmachi Trek Blogs. 
Famous One day treks near Mumbai list?
In case you dont want to travel till Lonavala, we have the following options available for one day treks near Mumbai. Our options keep changing as per the weather and season. Trekking in Mumbai for one day you can also check our upcoming event page for updates. 
Rajmachi trek from Mumbai? 
Mumbai participants can follow our itinerary for Rajmachi Trek from Mumbai. We create a whatsapp group you can coordinate with fellow hikers from Mumbai and travel accordingly. If we have Trek Leader from Mumbai, you can coordinate with him and travel subsequently. Treks and Trails India is the leading trekking groups in Thane. This is one of the most popular trekking Maharashtra destinations. 
Why should you join Treks and Trails India for Rajmachi Trek?
We run self-operated treks with our well-trained trek leaders and guides. We are the leading trekking clubs in Mumbai with thousand of trekkers choosing our services every year. We help with local conservation efforts, social causes, clean up drives, and generate employment in rural areas. Mostly third-party aggregators dont verify their operators or provide support in case of emergency. Most aggregators choose the cheapest operator at the expense of your safety, trek leader quality, and other services. 
Do you arrange a Rajmachi bike ride?
We currently do not organise bike rides to Rajmachi Fort? We can help you with Camping support at the base village. 
Treks and Trails India Camping Rajmachi, Udhewadi, Maharashtra, India
View on Map