Rajmachi Fort Lonavala
Rajmachi Fort is a historical fort having two stronghold forts in Lonavala. Forts of Rajmachi Lonavala are Shrivardhan and Manaranjan. Visible from Mumbai Pune Expressway on the right-hand side of Borghat, a popular spot near Khandala known as Rajmachi View Point. Rajmachi is a famous spot for trekking in popular Lonavala Hill Stations. 
Lonavala to Rajmachi Fort is a 16 km trekking distance from Lonavala, and there are many routes to reach Rajmachi Fort. We will be staying at Udhewadi Village, located below the two Balekilla; only camping during the winter and summer months is possible at Udhewadi. 
In the monsoon you can see the beautiful Kataldhar waterfall from Shrivardhan Fort. Rajmachi Fort near Karjat has many caves used by trekkers for night halt. Rajmachi Fort is located strategically overlooking Borghat, a historical trade route in Sahyadri Mountains. Popular among trekkers of India as one of the best trekking places in Maharashtra.
Rajmachi Trek Event Details
Shirvardhan Fort Height  2710 feet approx.
Nearest City Lonavala, Karjat
Separate stay for females and males in Homestay
Shrivardhan Fort Exploration.
Local Village Food.
Rajmachi photos: available in the photo gallery 
Best Time for Rajmachi Trek: 
Trekker Fitness and Endurance: Medium and BMI under 30
Cost for Rajmachi Camping: Rs. 1299/- (per person)
Receive a trekking E-certificate on completion of the Rajmachi Fort Trek.
Rajmachi Trek Upcoming Batches
September: 23, 30
October: 7, 14, 21, 28
Rajmachi Trek Event Itinerary
Day 1 - Saturday - Rajmachi Trek
For Mumbai Participant
Konark Express 11019 (Mumbai CSMT to Bhubaneshwar)
02:00 pm - CSMT
02:12 pm - Dadar
02:33 pm - Thane
02:55 pm - Kalyan
04:27 pm - Lonavala
For Rajmachi Pune participants
Pune to Lonavala local train
03:00 pm - Pune
03:05 pm - Shivaji Nagar
03:24 pm - Chinchwad
03:45 pm - Talegaon
04:20 pm - Lonavala
04:45 pm -  Assemble at Lonavala Railway Station and Move towards base village by Jeep (Half Way).
06:30 pm - Start Trek towards the base village - 8 km trek.
08:30 pm - Reach Base Village.
09:30 pm - Dinner.
Day Two - Sunday
05:30 am - Wake up and freshen up
06:00 am - Start ascending Shrivardhan Fort.
07:00 am - Reach on top and explore.
07:30 am - Start descending.
08:30 am - Reach at base village.
Have a breakfast.
Visit Udaysagar lake and temple.
10:30 am - Start return trek towards mid village.
12:30 pm - Reach at mid village and move towards Lonavala by local jeep.
01:30 pm - Disperse at Lonavala railway station
How to book?
Click on the "BOOK NOW" button.
Select your departure date and click on pay and book button.
Select your ticket type and quantity. (If you have a coupon code, apply at this stage)
Fill out your personal details and proceed with reviews & payment.
Select your payment type (UPI, Debit Card, Credit Card, Net Banking) and proceed.
Once your tickets are booked, you will receive confirmation via email. (Please provide valid email id)
A WhatsApp group link will be sent to your WhatsApp number 8 hours prior to the departure. (Please provide WhatsApp number while booking)
Event Details and Trek Leaders details will be shared on that WhatsApp group only.
How to Reach Rajmachi Fort from Lonavala
You can Board Train or Bus till Lonavala. You can either trek till the base village Udhewadi around 16 kilometers. You can hire private jeep till the base village from Lonavala Railway station. You can also hire rickshaw till Tungarli Dam trek around 12 kilometers. During monsoon season the jeeps will take you till Fanasrai village the start point for Kataldhar Trek. From here you will need to trek till Rajmachi Fort. The route is well connected from Lonavala with many bikers, hikers, villagers always visible.
Why should you choose Treks and Trails for Rajmachi Fort Trek?
Seven years of knowledge in managing Rajmachi Fort Trek with all safety SOP.
We were preferred by over 20000 trekkers last year with a 4.7 review rating of 5.
We equip one trek leader for every ten trekkers.
Female trek leader on each trek
Provide an E-certificate on successful completion of the trek. Valid for a lifetime with 99.9 percent availability online.
E-certificate is tamper-proof and shareable on social media and leading networking websites.
The roadmap includes adventure insurance for every trekker and trek leader for all our treks.
We self-operate our treks 
Group discounts available
Please Note
People may board the same train from their respective stations of convenience.
Missing the train is missing Rajmachi Trek, no refund will be provided.
Due to the visitor rush during this period, jeeps are sometimes unavailable or overbooked, and the participant is requested to wait patiently for their jeep.
If you wrongly booked for different date or batch. And you want to change date within 3 days of departure, then transfer charges will be applied which will be Rs. 200/- per person.
1 Night 2 Days
07 Oct, 14 Oct, 21 Oct, and more
Udhewadi, Maharashtra
Use any one code to avail this offer
Inclusions/Exclusions
What we'll give/What we won't
What is included in the tour
Travelling Lonavala to mid village and back to Lonavala by local jeep
1 Veg Dinner, 1 veg Breakfast
Homestay on sharing basis (Male / Female separate stay)
Treks and Trails expertise charges
E-certificate 
What is NOT included in the tour
Travel till Lonavala and back
Lunch on both days
Entry fee for foreign nationals
Mineral water/lime water/ purchased for personal consumption
All kinds of Extra Meals / soft drinks ordered.
Any kind of personal expenses.
Any kind of cost which is not mentioned in the cost includes above.
All expenses incurred due to unforeseen and unavoidable circumstances like roadblocks, bad weather.
Any medical / Emergency evacuations if required.
Things to Carry
Things to Carry
2/3 liters of water
Proper face mask and Sanitizer
Trekking Shoes provide more grip and comfort on the trek
Good torch must with an extra battery
Sleeping bag or two bed-sheets
Warm clothes
Some Dry fruits / Dry Snacks / Energy Bars
Glucon D / ORS / Tang / Gatorade sachets
One Day Backpack 20 to 30 liters
Sun Cap and Sunscreen
Personal First aid and Personal Medicine
Identity Proof
Please wear Full sleeves and Full Track Pant this will protect from Summer Sun / Thorns / Insects / Prickles
Rains are expected, so pack your bags accordingly to save them from getting wet.
Double pack your valuables / phones in plastic bags.
Rainwear / Poncho / Waterproof jacket etc. if you don't want to get wet.
Cancellation Policy and Charges
75% refund if notified via phone conversation 8 or more days prior to the event date.
50 % refund if notified via phone conversation 4 to 7 days prior to the event date.
No refund if the cancellation requested is less than 3 days prior to the event date 
No show No Refund.
Event Tickets cannot be transferred to another date against cancellation.
Event Tickets cannot be transferred to another person against cancellation.
If the event gets canceled we will refund "Trek Amount" only.
If the event is canceled due to any natural calamity, political unrest or other such reasons beyond our control the same cancellation policy will apply.
Refunds won't be issued if you cannot attend the event due to heavy rains, floods, traffic jams, car breakdowns or a personal medical emergency.
Your booking cannot be shifted to another date if you cannot attend the event due to heavy rains, floods, traffic jams, car breakdowns, or a personal medical emergency.
If your area is prone to flooding, traveling from a flooded area, heavy traffic, heavy rains, missing the train, or any other reason, if you cannot attend the event, we won't issue a refund or shift you to another date.
Management won't be held responsible if you are stuck due to heavy rains, traffic jams, personal emergencies or floods during the event.
If you are bringing kids, please understand the possibility of getting stuck or delayed. You might have to stay back due to heavy rains, floods, bus breakdowns, and rush at the trekking destination. We won't be able to refund or shift you to another date. You will have to wait it out till the weather clears.
Due to bad weather, floods, sudden changes in government rules, and overcrowding at the destination trek, the organizer has the right to change the trekking destination.
During the trek , due to any circumstances seen or unseen trek leader has the right to cancel the trek for safety reason. No refund shall be issued.
Treks and Trails Event Rules
Kindly carry one Identity proof, at least for the trek with your address.
We all are going for an adventurous and exciting trekking expedition; please Do Not misinterpret it as a PICNIC or LEISURE TOUR.
The leader's decision will be final, and all the members should abide by it.
We do not destroy or dirty the archaeological, historical monuments, natural habitat on the trek.
Swimming is not allowed in the lake or water tank on the forts. Locals use that water for drinking.
Putting your feet in water tanks or on the canon is not allowed on our treks.
Any addiction is strictly prohibited, e.g. drinking, smoking, chewing tobacco anyone caught doing it will have to exit the trek without a refund and travel back on own expense.
People caught smoking or drinking alcohol will be asked to exit the event on an immediate basis.
Please do not carry or wear any valuables, ornaments, jewellery, etc. If carried, then we Do Not take any liability for the same.
Rock Climbing, Rappelling, Trekking, or any adventure activity is potentially risky. For all these events, you are at your own risk. Organizers are not responsible for any accident or compensation in whatsoever manner.
We should strictly follow the code of conduct to avoid troubling our fellow trekkers or other people from our group or outside.
Listening to music on earphones or Bluetooth speakers is not allowed while trekking.
Bluetooth speaker not allowed inside the homestay or camping tents.
Drinking/smoking,/eating is not allowed inside the tents.
If you damage the tent, break the tent poles, you will have to pay us for the whole new tent on MRP.
If you are late for the bus pickup and are not reachable on the phone during your bus pickup, the trek leader will leave without you, and we will provide no refund.
Please check things to carry and wear trekking shoes on our treks.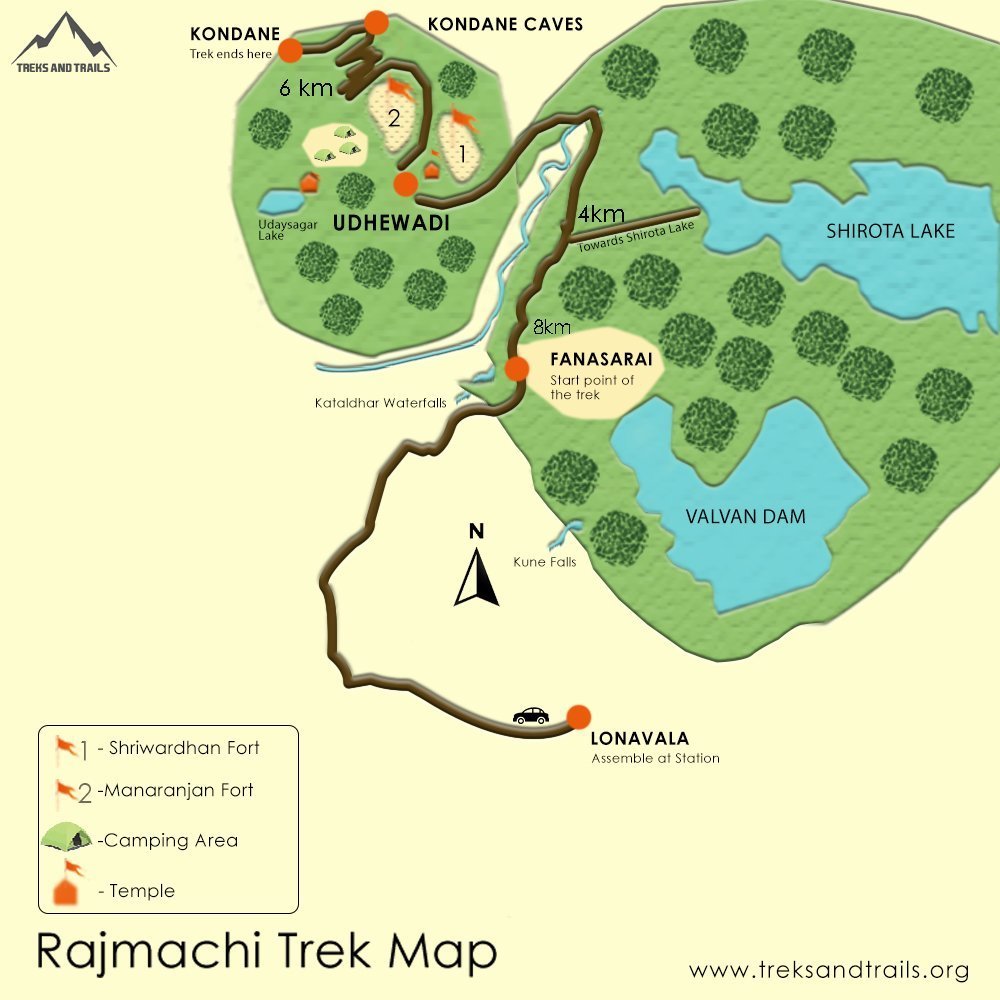 FAQ
Frequently Asked Questions
Are you an adventurer who loves trekking? Completing a trek can be a life-changing experience that leaves you with unforgettable memories. To commemorate your achievement, TreksandTrails provides e-certificates to all participants who successfully complete their trek. These e-certificates include your name, the name of the trek you completed, the date of completion, and a digital signature from TreksandTrails. They are a perfect way to showcase your accomplishment to the world and share your trekking journey with your loved ones. By receiving an e-certificate from TreksandTrails, you can proudly display your achievement on your social media platforms and inspire others to embark on their own adventures.  
Here are some FAQs about our e-certificates:
Q: What is an e-certificate for trekkers and hikers?
A: An e-certificate is a digital certificate awarded to participants upon completion of a trek or hike. It serves as proof of participation and achievement.
Q: How do I receive an e-certificate from TreksandTrails?
A: Upon completion of your trek or hike with TreksandTrails, you will be sent an email with a link to your e-certificate. You can download it from the link and save it on your device or share it on social media platforms.
Q: Can I share my e-certificate on social media platforms?
A: Yes, you can share your e-certificate on all social media platforms. The e-certificate is designed to be easily shareable, so you can show off your achievement to your friends and family.
Eligibility Criteria for a Trekking Certificate:
To be eligible for a trekking certificate, individuals must demonstrate adherence to safety rules, teamwork, and cooperation.
Participants must achieve the following requirements for earning a trekking certificate: completion of the trek; physical fitness; teamwork and cooperation; knowledge of safety rules; environmental awareness; a positive attitude; great attendance; and punctuality. We appreciate their commitment to the sport of trekking and acknowledge their achievements.
Rajmachi trek from Mumbai? 
Mumbai participants can follow our itinerary for Rajmachi Trek from Mumbai. We create a whatsapp group you can coordinate with fellow hikers from Mumbai and travel accordingly. If we have Trek Leader from Mumbai, you can coordinate with him and travel subsequently. Treks and Trails India is the leading trekking groups in Thane. This is one of the most popular trekking Maharashtra destinations. 
Why should you join Treks and Trails India for Rajmachi Trek?
We run self-operated treks with our well-trained trek leaders and guides. We are the leading trekking clubs in Mumbai with thousand of trekkers choosing our services every year. We help with local conservation efforts, social causes, clean up drives, and generate employment in rural areas. Mostly third-party aggregators dont verify their operators or provide support in case of emergency. Most aggregators choose the cheapest operator at the expense of your safety, trek leader quality, and other services. 
Do you arrange a Rajmachi bike ride?
We currently do not organise bike rides to Rajmachi Fort Pune? We can help you with camping support at the base village. The trail is famous for Rajmachi off roading among bikers.  
Explore a new way to enjoy nature with the Rajmachi Fort Pune trek. We offer an unforgettable experience for beginners or experts with our well-traversed, safe and secured routes. Get a taste of the Sahyadris with waterfalls and spot Rajmachi fireflies in the wild. Explore the hidden beauty of Maharashtra by taking a break and staying at our homestays, with fantastic food, bonfire, and much more! 
Are Lonavala Rajmachi Fort and Khandala Rajmachi Point similar? 
Both are different destinations in Maharashtra. Rajmachi view Point, located in Khandala, offers breathtaking panoramas of Rajmachi Killa, the Ulhas valley, and Ulhas waterfalls near the Duke's retreat in Khandala. Rajmachi Point Khandala has a temple, a kids' park, and Rajmachi garden a favorite spot for movie directors. Sunset point, Dukes' nose point, Monkey Point, and Lions Point are the occasional draws close to Rajmachi point Khandala.
Ever wondered what it would be like to see fireflies in the wild? Rajmachi trek and camping is the best destination to spot fireflies in Maharashtra and experience the beautiful sight of these ethereal creatures lighting up the forest at night.
Can you tell us about the famous Rajmachi waterfalls?
Waterfall near Rajmachi is the best place for trekkers this monsoon! You can spot various waterfalls often referred to as Rajmachi falls, like the Kune waterfalls, Ulhas Waterfall, Giri waterfall, Kataldhar water, and Kondana caves waterfall along the Rajmachi Kondana caves trek. 
Spot fireflies and enjoy the beauty of nature. Our Rajmachi homestay is perfect for you if you're looking for a great way to spend your holiday or want to spend time with your friends, family, or loved ones. You'll get the best of both worlds with great food, bonfire evenings, and amazing views!    
Is there a Rajmachi resort available along the hiking route to Udhewadi?
Only homestays or Rajmachi camping are available at the trailhead to Fort Rajmachi Trek. There are many resorts available at Khandala, Lonavala, Mulshi, and Karjat, where you can stay before or after the trek.    
How to trek with kids during a trek?
Trekking with kids can be a fantastic family adventure! Here are some tips to make it a great experience: Choose trails suitable for their age and abilities. Pack plenty of snacks, water, and their favorite treats to keep their energy up. Encourage them to explore and appreciate nature along the way. Take regular breaks for rest and games. Ensure they have comfortable shoes and dress in layers for the changing weather. Embrace the adventure together and create lasting memories. Have fun!
Which trek do you recommend for kids around Mumbai?
For kid-friendly treks near Mumbai, there are several options to choose from. Sondai, Karnala, and Lohagad offer scenic trails with moderate difficulty suitable for children. Prabalmachi, Matheran, and Korigad provide a mix of nature and historical exploration. Jambulmal and One Tree Hill are ideal for shorter treks with beautiful views. Dodhani Village in Matheran is another excellent choice for a family-friendly trek. Each of these destinations offers a unique experience and a chance for kids to connect with nature while enjoying the outdoors.
Kids trek near Mumbai - click here
Is it safe to go on a trek during monsoon in Maharashtra?
Trekking in Maharashtra during the monsoon season can be safe if proper precautions are taken. It is critical to choose well-maintained trails, listen to experienced guides, and stay up to date on weather conditions. Avoid going into unsafe regions or attempting dangerous river crossings. Always prioritise safety and be ready for slippery terrain and unpredictable weather.
How to protect your gadgets in monsoon trek?
To protect your gadgets during a monsoon trek, take essential precautions. Invest in waterproof covers or cases for your gadgets and use a dry bag or waterproof pouch to store them when not in use. Ziplock bags can provide additional protection. Place silica gel packs in your bags to absorb moisture. Use umbrellas or rain covers to shield your gadgets from rain. Avoid submerging them in water and consider backing up your data regularly. Carry power banks or extra batteries for backup power. Being cautious will help ensure the safety of your gadgets in wet conditions.
What should I pack for a monsoon trek in Maharashtra?
Pack essential items such as a waterproof backpack, rainproof jacket, quick-drying clothing, extra pairs of socks, trekking shoes with good grip, insect repellent, a waterproof cover for electronic devices, and a first aid kit. Carry enough water and energy snacks as well.
Are leeches a problem during monsoon treks in Maharashtra?
Yes, leeches can be encountered during monsoon treks in Maharashtra, especially in forested areas. To protect yourself, wear long socks, tuck your pants into your socks, and apply insect repellent on your legs. Carry a salt or lime solution to detach leeches if they attach to your skin.
What are some popular monsoon treks in Maharashtra?
Some popular monsoon treks in Maharashtra include Harishchandragad, Rajmachi, Andharban, Kalsubai, Bhimashankar, Tikona Fort, Torna Fort, Ratangad, Naneghat, and Visapur Fort. These treks offer scenic beauty and a unique experience during the monsoon season.
In case your question is not listed above, you can email us at highfive@treksandtrails.org
Whatsapp 8828004949 ( Monday to Saturday, 11.30 am to 7.00 pm only )
Treks and Trails India Camping Rajmachi, Udhewadi, Maharashtra, India
View on Map