About Kalsubai Monsoon Trek
Kalsubai with the height of 1646 meters 5400 Feet is famous as one of the highest peaks in Maharashtra. Kalsubai lies in the Sahyadri mountain range. This being the highest peak, it commands a beautiful view. Since Kalsubai is extremely famous, enough effort has been made to make this trek easy. There are steel railings, chains, and ladders at places where it is difficult to climb.
Monsoon Trek Event Details
Kalsubai Trek difficulty level: Medium
Base village for Kalsubai peak: Bari
Region: Igatpuri / Bhandardara
Total time required for climbing Kalsubai peak: 3.5 - 4 hours one way
Duration: 1 night and 1 day
Kalsubai peak height: 5400 feet approx.
Cost for Kalsubai Trek
Cost without transport: Rs. 899/- per person
Cost with transport: Rs. 1399/- per person
Kalsubai Monsoon Trek Event Itinerary
Day Zero
9:45 pm - Meet at Borivali National Park main gate.
10: 00 pm - Leave for the trek.
10:30 pm - Pick up at Andheri WEH.
10:45 pm - Pick up at Kalanagar bus stop (on the highway), Bandra.
11:00 pm - Pick up at Sion station circle.
11:10 pm - Amar Mahal, Ghatkopar.
11:45 pm - Pick up at Teen Hath Naka, Thane.
12:45 am - Pick up at Kalyan Bypass.
Day One
03:30 am - Reach Bari village.
04:00 am - Have tea and biscuits at the base village
04:30 am - Start ascending. 
08:30 am - Reach on top. Explore top. Have breakfast.
9:00 am - Start descending.
12:00 pm - Reach base village and have lunch. Simple veg thali, Jain food is available. 
01:30 pm - Start return journey towards Mumbai.
08:00 pm - Approx. arrival at Mumbai, Please note roads are in bad condition delays will be there. 
1 Night 1 Day
Available on request
Inclusions/Exclusions
What we'll give/What we won't
What is included in the tour
Travel by private non-Ac vehicle
1 veg breakfast and 1 veg lunch
Trek Leader expertise charges
What is NOT included in the tour
Mineral water/lime water/ purchased for personal consumption
All kinds of Extra Meals / soft drinks ordered
Any kind of personal expenses
Any kind of cost which is not mentioned in the cost includes above
All expenses incurred due to unforeseen and unavoidable circumstances like roadblocks, bad weather
Any medical / Emergency evacuations if required
Things to Carry
Things to Carry
2/3 liters of water
Proper face mask or shield
Sanitizer
Sturdy Trekking Shoes provide more grip and comfort on trek
Good Torch must with extra battery
Some Dry fruits / Dry Snacks / Energy Bars
Glucon D / ORS / Tang / Gatorade sachets
One Day Backpack 20 to 30 liters
Personal First aid and Personal Medicine
Identity Proof
Trekking pole
Please wear Full sleeves and Full Track Pant this will protect from Summer Sun / Thorns / Insects / Prickles
Rains are expected, so pack your bags accordingly to save them from getting wet
Double pack your valuables/phones in plastic bags
Rainwear / Poncho / Waterproof jacket etc. if you don't want to get wet
Covid Safety Guidelines
Before planning for any adventure activity, please improve your minimum physical fitness. Most of us have been at home for a lockdown period.
Please convey your real medical conditions to Treks and Trails India while enrolling for the event.
Kindly wear three-layered masks, N95. Carry an extra disposable mask with you. Please ensure all participants, leaders, staff, and general persons wear masks before interacting with them.
Carry with your hand wash, sanitizer bottle, and clean your hands before touching food and objects.
Cover-up wear full sleeves shirts and full pants, hiking shoes, caps, and face bandana over your mask. Covering up will help reduce exposure to the Covid19 virus.
Bring your food and water with necessary cutlery like utility mug, fork, and spoon. Your mug can be used for cooking, eating, and drinking water. Carry your reusable water bottles; please don't share with others.
Cooperate for temperature checks, questions reading any symptoms, and oxygen level checks; these are done to help you limit the spread of the virus. All these checks will be conducted multiple times during the activities.
Kindly do not register for the event or travel if you have come in contact with someone who has Covid19 in the last 14 days.
If you have any symptoms like fever, dry cough, weakness, body aches, etc., at the time of screening. You won't be able to participate in the event. You will have to be evacuated on the medical condition and should report to the nearest healthcare center.
Maintain a distance of six feet or more while sleeping at night. Incase distance is not possible, try sleeping in a criss-cross manner to avoid face proximity.
Please bring your garbage back to the city and dispose of it in your bin.
Consuming any alcohol, cigarettes, pan masala, tobacco, drugs should be avoided; they induce a lot of spitting, urinating, and passive smoke, which can be harmful for the general population.
Avoid touching new surfaces and touching your mask and face continuously.
If your adventure destination is overcrowded, be prepared to change your location or wait for the crowd to reduce.
If any participant, trek leader test positive after returning from the event within 14 days of the Activity. They should maintain transparency and inform Treks and Trails India. It will help all others isolate themselves and get tested. Participants and Treks and Trails will cooperate to help manage the situation.
Carry your own personal gear.
Keep the conversation with unknown people to a minimum and maintain a distance of more than 6 feet while talking.
Avoid speaking with the general population and maintain distance to keep yourself safe in these difficult times.
Participant need to install the Arogya Setu app
Cancellation Policy
75% refund if notified via phone conversation 8 or more days prior to the event date.
50 % refund if notified via phone conversation 4 to 7 days prior to the event date.
No refund if the cancellation requested is less than 3 days prior to the event date 
No show No Refund.
Event Tickets cannot be transferred to another date against cancellation.
Event Tickets cannot be transferred to another person against cancellation.
If Trek gets canceled we will refund "Trek Amount" only.
If the event is canceled due to any natural calamity, political unrest or other such reasons beyond our control the same cancellation policy will apply.
Treks and Trails Event Rules
Kindly carry one Identity proof, at least for the trek with your address.
We all are going for an adventurous and exciting trekking expedition; please Do Not misinterpret it as a PICNIC or LEISURE TOUR.
The leader's decision will be final, and all the members should abide by it.
We do not destroy or dirty the archaeological, historical monuments, natural habitat on the trek.
Swimming is not allowed in the lake or water tank on the forts. Locals use that water for drinking.
Putting your feet in water tanks or on the canon is not allowed on our treks.
Any addiction is strictly prohibited, e.g. drinking, smoking, chewing tobacco anyone caught doing it will have to exit the trek without a refund and travel back on own expense.
People caught smoking or drinking alcohol will be asked to exit the event on an immediate basis.
Please do not carry or wear any valuables, ornaments, jewellery, etc. If carried, then we Do Not take any liability for the same.
Rock Climbing, Rappelling, Trekking, or any adventure activity is potentially risky. For all these events, you are at your own risk. Organizers are not responsible for any accident or compensation in whatsoever manner.
We should strictly follow the code of conduct to avoid troubling our fellow trekkers or other people from our group or outside.
Listening to music on earphones or Bluetooth speakers is not allowed while trekking.
Bluetooth speaker not allowed inside the homestay or camping tents.
Drinking/smoking,/eating is not allowed inside the tents.
If you damage the tent, break the tent poles, you will have to pay us for the whole new tent on MRP.
If you are late for the bus pickup and are not reachable on the phone during your bus pickup, the trek leader will leave without you, and we will provide no refund.
Please check things to carry and wear trekking shoes on our treks. 
Event Updates
Whatsapp Broadcast list regular update 
Step 1: Save number in your phone book Treks and Trails India - 8828004949
Step 2: Ping us your name and email 
Congratulations you will receive regular event updates now 
Email - connect@treksandtrails.org
Facebook Page - https://www.facebook.com/TreksandTrailsMumbai
Meetup - http://www.meetup.com/TreksandTrails-Mumbai-Meetup/
Twitter - https://twitter.com/treksNtrailsInd
https://www.instagram.com/treksandtrails/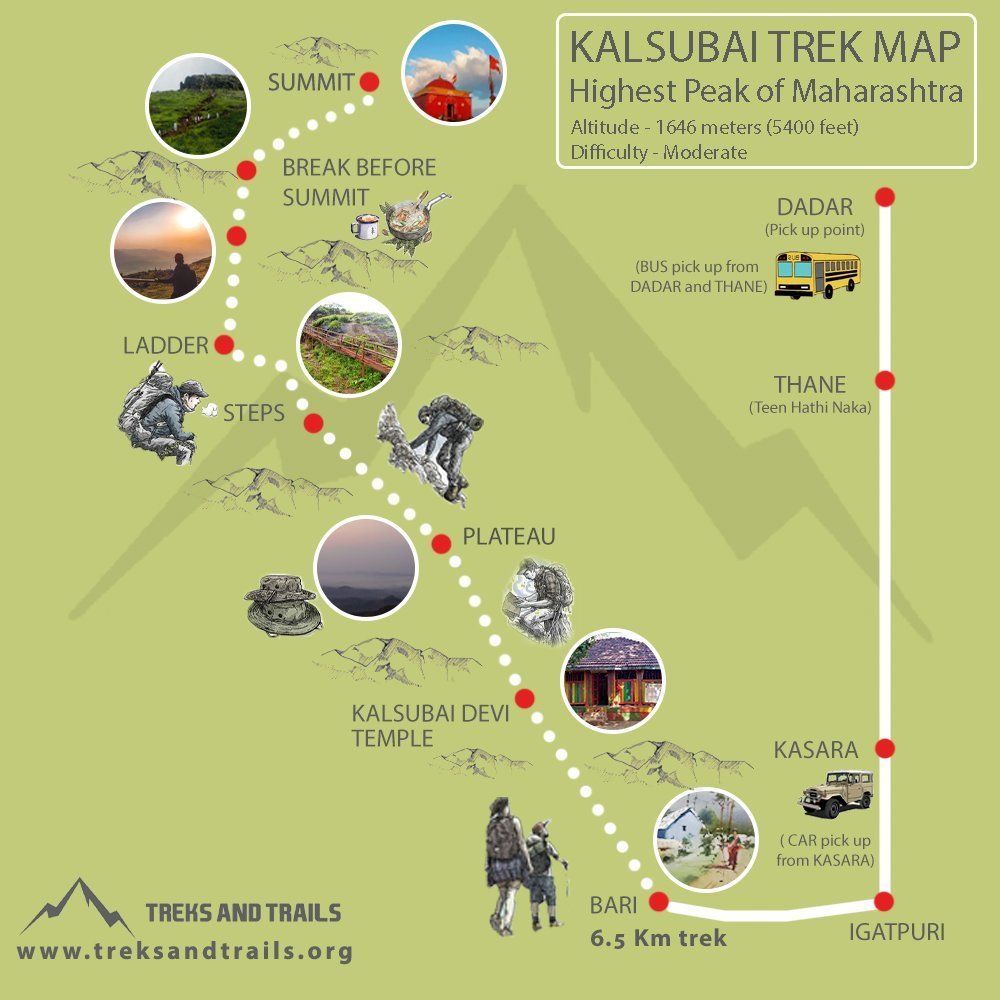 FAQ
Frequently Asked Questions
Kalsubai Trek Highest Peak of Maharashtra
Kalsubai is a mountain in the Western Ghats, located in the Indian state of Maharashtra. Its summit situated at an elevation of 1646 meters is the highest point in Maharashtra The mountain range lies within the Kalsubai Harishchandragad Wildlife Sanctuary. Kalsubai at 5400 feet is the highest peak of Maharashtra and this is the main reason for its popularity and difficulty.
How do I get from Kasara to Kalsubai?
If you are in Mumbai, you can take a local Train up to Kasara or long distance Train up to Igatpuri. Buses from both Kasara and Igatpuri are available for Baari Village. All Buses plying to Pune, Bhandardhara, Akole, etc. go via Baari. Its 45 minutes Bus journey from Igatpuri and an hour plus from Kasara.
How do I get to Kalsubai?
How to reach Kalsubai Peak
Reach Kasara Railway Station.
Take local Taxi till base village Bari.
By Road Mumbai - Kasara - Igatpuri - Ghoti - Bari Village.
Kalsubai Trek from Pune By Road Pune - Sangamner - Rajur - Bhandardara - Bari.
Kalsubai Trek route is well marked.
Local guides often accompany climbers to the summit.
How long does it take to climb Kalsubai?
Head to Bari Village which is the base of the Kalsubai trek and the next morning, you will start walking for 1 hour and 30 minutes to climb the slopes and reach the topmost part where a red-walled temple is situated.
How do I get to Kalsubai Trek?
To get to Kalsubai, you must first reach Bari village and walk up to the temple, which is the starting point of the trek. The best way to get to Bari from Mumbai is by road, you can either drive down or hire a private taxi.
Kalsubai Peak is the highest summit in Maharashtra. The view of this majestic mountain is a fantastic sight in Bhandardara. Popularly now known as the Everest of Maharashtra.
Kalsubai Altitude - 5,400 feet above sea level, Time took 4 hours to ascend, 3 hours to descend, Water sources none. Carry at least 3 liters of water. Planning to trek to Mount Kalsubai, the Everest of Maharashtra? Learn everything about the trek including trek distance, route map, how to reach, best time, sightseeing and more at Treks and Trails India.
Kalsubai is the Everest of Maharashtra, One should definitely try during monsoon to see a mesmerizing view from the top. Situated in Kalsubai Harishchandragad Wildlife Sanctuary, the peak lures a huge amount of trekkers. Every Monsoon thousands of trekkers visit the peak from first-time trekkers to mountaineers. Monsoon season is the best time for Trekking in the Western Ghats when everything is green, and the entire place comes alive.
Find tours, Outdoor Activities, Adventure Packages, and trips in India. Join our Tribes, learn from Gurus, and find great adventures. During Monsoons, one can experience a hike amidst clouds and high-speed winds at the peak. The Monsoon trek will make you uniquely experience nature.
Are washrooms available during the trek?
No washrooms are only available at the base village. 
Can we bring our vehicle till base village and is parking available?
Parking is available near the village, Parking fee will be applicable, Car owner parks at own risk. 
Is Jain food available on this trek?
Yes, we can arrange Jain food for the trek. 
What are the compulsory things to carry on the trek?
Please carry 3 liters water, torch, rainwear, wear good trekking shoes, wear a full t-shirt and track pants. 
Will we reach Mumbai Pune on time mentioned?
The itinerary is approx time during monsoon road condition are bad there may be delay due to bus breakdown or bad weather in case bus reaches late Treks and Trails India will not pay for uber or ola or taxi fare.