Kedarkantha Trek  - Hiking & Trekking in the Himalayas 
A Perfect Winter & Snow Trek in the Himalayas
Kedarkantha Trekking is to reach the Kedarkantha peak in the mountain range of the Tons river valley. It is the most beautiful rounded peak and most sought-after snow trekking destination in India. Even in winter, a trek to Kedarkantha is possible as the trail path is through the dense forests and vast meadows. One will get soaked into the aura as we walk through the protected area of Govind national park. Our destination path is full of pictorial view nestled at the Kedarkantha height at 3810 meters above sea level covering a consolidated distance of 20 km — a delightful marvel for all trekkers with the verdant greenery, lush landscapes, myriad collection of flora, frozen ponds, to the sights of mesmerizing peaks. Himalaya Trekking hidden jewel the best winter season hike. 
Kedarkantha Tour Package
Location: Garhwal Himalayas, Uttarakhand.
Duration: 6 days / 5 nights
Maximum Kedarkantha altitude 3800 meters / 12500 feet above sea level
Grade: Easy to Moderate
Kedarkantha Tour Package  Rs.7,499 (Per person - Dehradun to Dehradun)
WhatsApp me for any questions 

How to reach Kedarkantha Winter Trek
By Air
Dehradun brings the closest to our base location with the airport Jolly Grant. It is well connected to all the states and cities with a daily flight from Delhi.
Kedarkantha Trek Event Itinerary
Day 1: Dehradun – Sankri 9 hour drive
The journey will start at 7.00 am from Dehradun Railway Station to Sankri and it will take around 9 hrs. We will drive via Dehradun and Mussoorie, alongside the Yamuna, and also passes by beautiful pine forests. On reaching Sankri, we will explore the scenic hamlet to prepare for the trek. Overnight stay at Sankri.
Day 2: Sankri Base Camp to Juda-ka-Talab - 4 Km (9100 Feet)
Our trek commences from today for a distance of 4km. We will start our trek to Juda-ka-Talab by moving out of Sankri, towards Sor, and upwards on an inclined road that moves parallel to a beautiful stream. We cross many babbling brooks amidst the dense forest, whilst walking on a lush carpet of maple and pine leaves. The sounds of the streams mingled with the Twitter of birds and the calls of the langur greet your eyes. Juda-ka-Talab is a pristine lake surrounded by pines. It is situated at a height of 9100 feet. Overnight stay in tents.
Day 3: Juda-ka-Talab to Kedarkantha Base – 3.5km (11200 Feet)
Today we start our trek to the Kedarkantha base camp which is at a height of 11,200 feet and is 3.5km away from Juda-ka-Talab. The distance can be covered at a leisurely pace post breakfast. We enter the beautiful forest once again and as we climb higher, the ridge gets steeper. As if to compensate for its steepness, the landscape is dotted with charming not meadows. We will reach the campsite in the afternoon. Overnight stay in tents.
Day 4: Kedarkantha base camp to Kedarkantha Summit (3,810 m) and back to Hargaon (2,713 m)
This is the day you've been working hard for! The trek from the base camp to the summit is not a long one. On reaching the summit, your jaw is going to drop and your eyes will not blink. The Kedarkantha summit is marked by an arrangement of stones with a Trishul that points to the sky. The summit offers an astonishing 360-degree view of the peaks of Uttarakhand and the Chaainsheel Pass and Kailash ranges of Himachal. From the top, you can also see the Har Ki Dun valley below. The story behind Kedarkantha is an interesting one. The name literally means the throat of Lord Shiva (Kedar refers to Lord Shiva and Kantha means Throat). The legend has it that this peak was supposed to be the original Kedarnath temple but Lord Shiva, who disguised himself as a cowhiding from the Pandavas was disturbed during meditation by the villagers. The interruption made him change his location from this peak to the present Kedarnath temple. We hike back to the base camp after spending a good time on the summit. Post lunch we head towards Hargaon (2 km trail). Hargaon is a large camping area en route to Sankri. An overnight stay is required before saying goodbye to the beautiful place.
Day 5: Hargaon to Sankri
Today we head down to Sankri. It takes about 2-3 hours to finish this 4 km trek route of the day. For the rest of the day, you can explore the village of Sankri, which is known to be the heart of the Har Ki Dun valley, along with other villages like Gangad and Osla. Sankri is a typical "Pahari" village, with unbeatable hospitality offered by the locals. It is also the last road head to the Govind Ballabh Pant Wildlife Sanctuary 
Day 6: Sankri – Dehradun nine hours Drive
We will check out after breakfast by 8 am and start our return journey towards Dehradun. We will reach Dehradun by evening. The glorious trek ends here.
Kedarkantha Trek Cost  Rs. 7,499 (Per person - Dehradun to Dehradun)
Whatsapp me for any questions 

Kedarkantha Trek - The best winter trek in the Himalayas
Are you excited to go for the Kedarkantha Trek? Plan The Unplanned is all set to take you for an adventure in the Himalayas! Join us, now! Complete information on the Kedarkantha trek. Trek details, experiences, maps, photos, videos, when to go, what to take, how difficult is the trek, etc. only at Treks and Trails India
Mountains laden with white snow and the perfect sunrise, Kedarkantha is truly the best winter trek in India. Here's everything you need to know about it. The Kedarkantha Trek Peak is one of the most sought-after snow trekking destinations in Uttarakhand India.
Kedarkantha trek in Uttarakhand is the best trek for the winter season, mountains wrapped with snow give you a wide view of a Himalayan peak. Kedarkantha Trek is one of the most fascinating and thrilling trekking tours which provides all the excitement but with limited challenges and in much less time.
Fringed with pine trees and adorned with the beauty of snow, Kedarkantha Peak is one of the most sought-after snow-trekking destinations in the country. Treks In Uttarakhand are best during the snow season. Kedarkantha's best time for the trek is during the winter season. Winter treks in the Himalayas most famous destination in India. 
5 Nights 6 Days
Available on request
Inclusions/Exclusions
What we'll give/What we won't
What is included in the tour
All meals starting from dinner on day 1 to breakfast on last day
Accommodation on double occupancy for 5 nights
Transport from Dehradun onwards
Tempo Traveler with Push Back seats
Mules to carry camping equipment
Camping equipment
Camping tents, dining tent, Kitchen tent
Toilet tents with portable toilet seats
Camping stools, table
Sleeping Bags
Foam Mattresses
Gaiters, Micro-spikes if needed
Forest entry for Indian national
INR 1,500/- additional for Non Indian Citizens
GST @5%
Dedicated experienced guide, cook and support staff
Certified Guide with BMC certified & First Aid course
What is NOT included in the tour
Any Expenses or services not mentioned in the above inclusions
Trek Insurance
INR 390 PER Person Add On Cost
Coverage for
Medical Evacuation
Hospitalization due to Illness or Injury during the trek
Can be upgraded for Missed flights, cancellations, baggage loss
Any costs incurred due to bad weather or roadblocks
Baggage Offload Charge

INR 350/- for one bag up-to 12 KG per day
INR 1,400/- for the complete trek
Things to Carry
Things to Carry
1 Pair of Thermal
3 Pair of Socks + 1 Pair of woollen socks
2 Pair of Hand Gloves (Water Proof & Fleece material)
Sun Cap
Woollen Cap
Neck Warmer (Scarf/Buff)
2 Quick Dry Full Sleeves (T-Shirt)
1 Full sleeves Fleece
1 Wind Proof Jacket (windcheater/Heavy Jacket)
2 Track Pants (No Cotton or Jeans)
Sun Glass
Sun scream, Lip balm, Moisturizer
Torch
Trek Pole
Trekking Shoes (No Sports shoes or Woodland shoes)
Poncho ( The Gear used to protect from Rain)
Day pack (Small one)
Back Pack 60 Ltrs (+ Rain cover)
2 Water Bottles
Toilet Paper & Wet Wipes
Hand Sanitizer
Antibactial Powder
Tooth Brush
Quick Dry Towel
Medical Disclosures
Crocin (1Strip)
Disprine (1 Strip)
Lomotive (1 Strip)
Digene (1Strip)
Guaze
Dettol
Band Aid - Qty 5
Neusphorine Powder
Betadine Tube
Vomistop/Avomine (Motion Sickness Tablet)
Cancellation Policy
If you cancel the trek due to any reason, it is mandatory to notify us. Cancellation charges will only be effective from the date we get your request to cancel the trek.
90% refund if notified via phone conversation 30 or more days prior to the event date.
50 % refund if notified via phone conversation 21 to 29 days prior to the event date.
No refund if the cancellation requested is less than 20 days prior to event date
No show No Refund.
Event Tickets cannot be transferred to another date against cancellation.
Event Tickets cannot be transferred to another person against cancellation.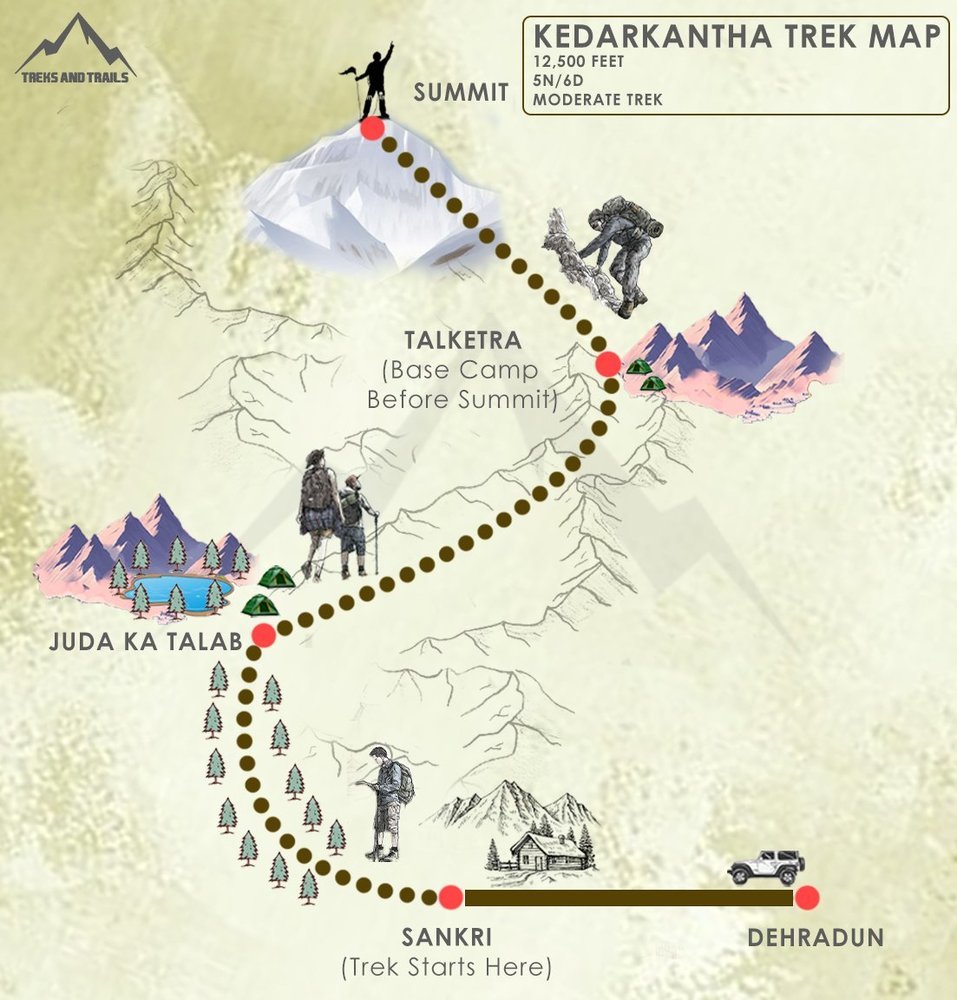 FAQ
Frequently Asked Questions
Question.  How difficult is the Kedarkantha Trek? Best Himalayan Treks in Uttarakhand?
Answer.  Kedarkantha Trek in comparison is easy to moderate difficulty with another high altitude trek. Trekking in India is popular during the summer and winter seasons. 
Question.  How much distance do we have to cover on each day during the Kedarkantha Hike?
Answer.  The Kedarkantha Base Camp is located on open terrain. On average, we cover roughly four to eight kilometers between our camping stations. The Kedarkantha trekking distance is about 20 kilometers long. It is one of the well-known winter treks in India. On your ascent to the Kedarkantha peak, indulge in the breathtaking Himalayan beauty, alpine thickets, scintillating sunsets, and an enchanting journey.
Question. Kedarkantha Tour Package
The Kedarkantha Tour Package offers a 6 day/5 night stay in the Garhwal Himalayas of Uttarakhand. The maximum altitude that will be reached is 3800 meters (12500 feet) above sea level, but the grade is considered easy to moderate. Kedarkantha is a great place to enjoy the outdoors with plenty of opportunity for hiking, camping, and other activities.
Question.  What will happen if a Winter trek is extended?
Answer.  Beyond our controllable reasons when the trek is extended, then additional charges tend to be applied.
Question.  Who will be our lead guide person? 
Answer.  The lead guide person is a certified and experienced personnel. These guides are locally sourced and have other team members, including local guides, cooks, helpers, and porters. He would have to trek the Himalayas many times before and has experience of summiting Kedarkantha Peak. 
Get the best deals and discounts on Kedarkantha Trekking Packages. Inquire Immediately.
Question.  Is this trek safe for girls on Winter Himalayan Treks?
Answer.  Our treks are planned with a male: female ratio. As an organizer, we make sure that their tents are shared only with other female trekkers.
Question. How long is kedarkantha trek?
Answer. One of the most well-known trekking routes in India. Kedarkantha trekking distance is about 20 kilometer long. Enjoy the breathtaking Himalayan scenery, alpine thickets, spectacular sunsets, and an enchanted journey as you ascend to the Kedarkantha peak.
Question.  Many people in a tent?
Answer. Our tents are all three-person tents. Jungle camp in the snow amazing experience for hikers. 
Question.  What is the level of fitness expected from the trekkers?
Answer.  Good physical and mental fitness is expected to complete the Trek. Kedarkantha Trek is ideal for beginners to familiarize themselves with similar high altitude treks.
Question.  Typical Food menu during a trek?
Answer.  We make sure that wholesome and nutritious breakfast, lunch and evening snacks are served. We believe and serve only vegetarian food as it is easy to digest and preferable in high altitudes.
Question.  What if we encounter a medical emergency?
Answer.  We are trained to manage emergencies in high altitudes. Our lead guide is professional and experienced. Our team do carry emergency first aid kits and oxygen cylinder.
Question.  What is the Kedarkantha Temperature? 
Answer.  Kedarkantha temperature varies from 14 degrees to -3 degrees during winter. Trekking In December during snow season weather can reach -3 degrees. Lowest temperature in kedarkantha can go as low as -10.
Question.  Kedarkantha weather throughout the year? 
Answer. During summer, the weather is pleasant from April to June. During the monsoon, it is difficult to trek in Uttarakhand. Autumn months: October, November, the look of Kedarkantha changes. It is the best time for new trekkers. Winter is the best time for snow treks at Kedarkantha in the Himalayas from December to January and February to March.
Question.  Kedarkantha Location in India?
Answer.   Kedarkantha Winter Trekking is a popular trek in the Himalayas in the state of Uttarakhand, India. Kedarkantha peak is located at 12,500 feet above sea level. Kedarkantha is situated inside the Govind Wildlife Sanctuary in Uttarkashi district. The Kedarkantha India hike will start from Sankri Village. Sankri, a beautiful village, is the starting point of many treks in Uttarakhand. Sankri to Kedarkantha Summit trek is every hikers dream in India. 
Kedarkantha lake, which is 2,700 metres above sea level, is a beautiful place to visit. Kedarkantha peak, a majestic mountain in the Uttarkashi region of Uttarakhand, rises at a height of 3,800 metres and is found in the Govind Wildlife Sanctuary.
Question.  Best winter treks in India?
Answer.  Here are some of the best winter treks
Brahmatal trek
Chadar Trek
Roopkund Trek
Goecha La Trek
Kedarkantha Trek
Kuari Pass Trek
Har ki Dun
Nag Tibba Winter Trek
Panwali Kantha Trek
Dayara Bugyal Trek
Pangarchulla Peak Trek
Markha Valley Winter Trek
Spiti Winter Homestay Trek
Khopra Ridge Trek
Sham Valley Trek
Snow Leopard Trek Kibber Spiti Valley
Question.  Uttarakhand Temperature during winter trekking season? 
Answer.   Weather will be cold with high to moderate snowfall. During the trek, it will be pleasant and cold at night during your tent stay. We provide you with good sleeping bags and sleeping material to make you comfortable during your Uttarakhand camp stay. 
Question.  Is Kedarnath and Kedarkantha Trek the same?
Answer.  Kedarkantha to Kedarnath distance is 91.3 kilometers. They are two different treks and should not be confused as the same destination. Most travelers feel they are both the same destination. Kedarnath is a six-day journey in Uttarakhand's Govind Pashu Vihar National Park, distinct from the well-known Temple of Kedarnath.  Kedarkantha is six days, including the days spent traveling from Dehradun to the basecamp and back. One of the most popular treks in India, Kedarkantha, is well-liked by both experienced and novice hikers.
Question.  Best Time and Weather for Kedarkantha Trek?
Answer.   Kedarkantha Best time to visit are in the winter months of December, January, February, and March,  when there is the most snowfall. During this time, Kedarkantha is very cold. In the winter, snow-covered mountain slopes and spectacular scenery draw intermediate and experienced trekkers to Kedarkantha. The Kedarkantha winter trip is for thrill-seekers.

Question.  Can you tell me about Kedarkantha Climate and Temperature?
Answer.  The world-famous Kedarkantha, at 3,850 meters, is a classic hike. This place's year-round cold temperatures attract thrills. Kedarkantha's year-round temperature range of -2 to 17 degrees Celsius gives different charms each month. This mountain location has something for travellers year-round.
Kedarkantha tour has breathtaking green meadows in the summer, blossoms with beautiful flowers in the monsoons, and forms the most spectacular walk in the winter. The Kedarkantha climate invites travellers year-round.

Question.  Kedarkantha trek difficulty level for beginners?
Answer.  The Kedarkantha Trek ranges from easy to moderate in terms of its level of difficulty. As the weather in the Himalayas is particularly unpredictable, temperatures might drop to -10 degrees. From April through June, temperatures range from 0 to 20 celcius. These months are temperate, breezy, and pleasant, making the walk easier than in winter. The Kedarkantha Trek's difficulty can be decided by the weather and terrain. Winter is the best season for trekking in India.
Question.  What is the Kedarkantha trek elevation and altitude?
Answer.  Kedarkantha altitude is 12,500 feet above sea level. It's a high summit in the Himalayas in Uttarakhand, India.
Day one : At Sankri Base Village, gain 6455 feet.
Day two : Sankri Base Camp to Juda-ka-Talab (4 kilometers) (9100 feet).
Day three : Juda-ka-Talab to Kedarkantha Base, ( 2.5 kilometers) (11200 feet).
Day four : from the Kedarkantha base camp to the summit and back to Hargaon (2,713 meters).
Day five : Hargaon-Sankri (it takes two to three hours to finish this trek).
Day six : an eight-hour drive from Sankri to Dehradun
Question.  Why is the Kedarkantha trip simple for some people but challenging for others?
Answer.  Before going on a trip, it is important to do a pre-trip inspection of your body mass index, fitness level, current health status, and hiking supplies (shoes, jacket). One hiker may find the path to be easy, while another may find it to be challenging. 
Question.  Is Kedarkantha trek easy?
Answer.  If you've done your studies and are well-prepared for the journey, Kedarkantha is an easy-to-moderate walk for beginners. This is a streamlined Himalayan walk that ranges from 4-5 kilometers each day at a moderate elevation on all days of the trip. The harsh weather in December and January, as well as the low oxygen levels at high altitude, make the hike tricky.
Question.  How's Network and Connectivity at Kedarkantha winter trek?
Answer. Pack a BSNL/MTNL sim since Vodafone and Airtel won't function here. MTNL only functioned until Sankri Base Camp. Sankri has no ATMs. Therefore, withdraw cash at Mussoorie or Dehradun. Inform to your family/ friends about your trekking start and end date to not expect messages or calls incase if there's no network.
Question.  How to get fit for the Kedarkantha trek?
Answer.   When you're in great shape, you can take in the scenery of your surroundings without being distracted by how tired you are. An excellent level of fitness before a hike also makes it less likely that you'll get affected by stress.
Cardiovascular Fitness-
Increase your daily 2-kilometer walk to 5 kilometers. Hard terrain walking prepares you for mountain hiking. Do this daily for three weeks.
Running : It improves walking speed and stamina on hilly terrain. You may build up from a little distance. The target should be four kilometers in 25 minutes initially.
Stretching : Stretching keeps muscles healthy and flexible. If you prepare your body months before your expedition, the mountains will be easy to climb.
Breathwork : Alongside your weekly workouts, make time to integrate some easy yet effective breathing exercises. Breathing exercises not only assist to raise your hiking lung capacity, but they also activate the parasympathetic nervous system (PNS), which gives you feelings of peace and calm.
Also, before the trek, check your body mass index to make sure you're in good health.
Question.  Why you should not drink alcohol or smoke on Kedarkantha trekking?
Answer.   Acute Mountain Sickness (AMS) may arise from drinking alcohol and smoking which lowers your body temperature. In addition to being a significant health risk, this is also an extremely common illness among hikers. So it's advisable to not consume alcohol or smoke during trek.
Question. Kedarkantha Trek Permits and Local Guide
Answer. If you're planing a DIY trek choosing a local guide will be of great benefit.
Kedarkantha hiking permits are only provided if you're accompanied by a licenced local guide. The tour guide will also assist you secure forest permissions in Sankri.
Choosing a tour guide not only protects your safety by ensuring you stay on the proper track and dealing with emergencies, but also provides you insights into to the native culture and landscape. Peak seasons need pre-booking a local guide.
Question. Kedarkantha's Myths and Stories
Answer. Numerous myths surround Kedarkantha and Juda-ka-Talab, a lake near the summit in Uttarakhand's Uttarkashi district.
The stories focus on Lord Shiva's visit to Kedarkantha.
The legend dates back to the period of the Mahabharata. Following the conflict, the Pandavas travelled to the Himalayas to seek Lord Shiva's blessings. Lord Shiva didn't turn up to greet them. Instead, he disguised himself as a buffalo and misled the Pandavas. Bheem was tricked by the herd of buffalo. He stood on two rocks, his legs wide out. The buffalo were forced to pass beneath Bheem. One of the disguised buffalo refused to pass, culminating in a battle with Bheem. Bheem ripped the buffalo apart in this fight. The Pandavas later built Shiva temples in the locations where these pieces landed.
The Kedarkantha trek is a classic winter trek in the Uttarakhand Himalayas. The route takes you through some of the most beautiful alpine meadows and forests in the region. The Kedarkantha trek route map is a great resource for planning your trip. The map shows the different stages of the trek, as well as the different campsites along the way.
Trekkers Rejoice! Kedarkantha Trek booking is available.