Igatpuri Secret Camping and Water Sports
About Igatpuri Secret Camping and Water Sports
Welcome to our secret campsite high fives, Start with water sports activities which includes Learning Kayaking, River Raft Boating or just relax by swimming and body surfing life jackets will be given to all. Swimmers and Non Swimmers can enjoy water sports at Igatpuri Secret Camping and all ages can participate. Life Jackets are compulsory for Swimmers and non Swimmers for all water sports activities. Our campsite is well hidden inside a beautiful jungle for sure you will have trouble finding it we have kept it that way. Igatpuri Lakeside camping is a beautiful spot for landscape photography.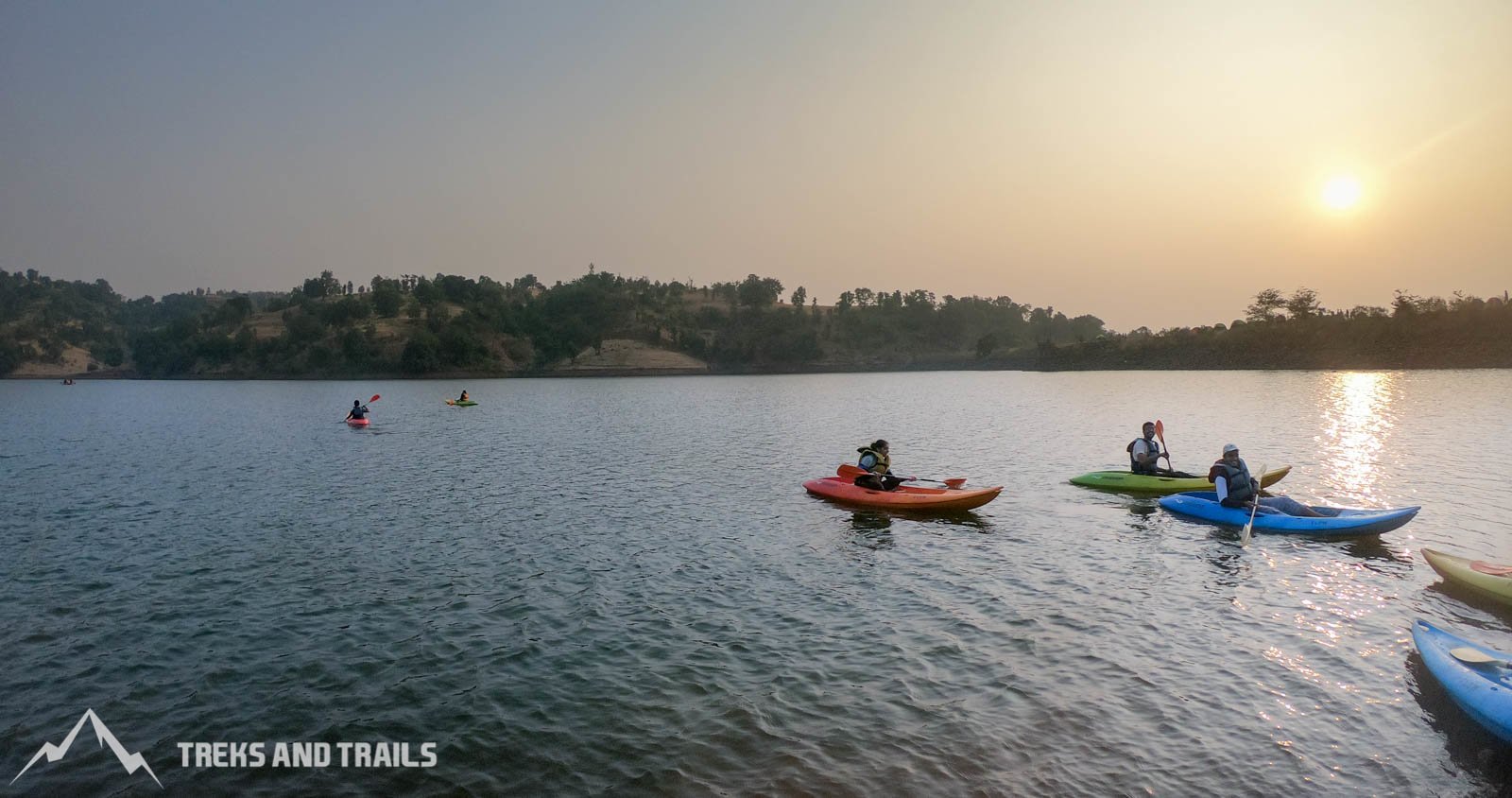 Your tents will be lake facing as the sunsets you can enjoy tea and evening snacks. Our guest are always welcomed early to maximize time spent at Igatpuri camping site and enjoy water sports to the fullest. Igatpuri Campsite is amazing for Astrophotography, Star Trails Photography, Igatpuri Stargazing it has very less night light pollution located in one of the darkest spot in Maharashtra. You can join for Night Trek shoes compulsory after you enjoy Dinner local food
Wake up to the sounds of birds and enjoy birding your tents will be facing sunrise and the beautiful Secret Camping Lake. Indian toilets are available on campsite and parking. After your morning breakfast you can click more selfies and groupies. Check out timings are 10 am you can also visit nearby sites our campsite manager will share the locations.
Campsite is ideal for camping near Mumbai, camping near Nashik.
Igatpuri Lake Camping Cost Includes
Tent stay sharing basis
Food ( Evening Tea and Light Snacks, Dinner, Morning Tea and Breakfast )
One time Water sports included in cost.
Twin & Triple Sharing Tent available Kindly mention in comment your requirement when booking
Batches for Igatpuri Secret Camping and Water Sports
   March 2019 Camping Igatpuri
23rd 24th March 2019
30th 31st March 2019
   April 2019 Camping Igatpuri
6th 7th April 2019
13th 14th April 2019
20th 21st April 2019
27th 28th April 2019
Igatpuri Secret Camping Event Details
Option 1 Without Transport Cost: Rs 1200  | Veg Food  | Lakeside Tent Sharing Basis | Water sports 

Option 1 Without Transport Cost: Rs 1350 | Non Veg Food | Lakeside Tent Sharing Basis | Water sports 

Option 2 With Transport Cost: Rs 1600 | Veg Food  | Lakeside Tent Sharing Basis | Water sports 

Option 2 With Transport Cost: Rs 1750 | Non Veg Food | Lakeside Tent Sharing Basis  Water sports 
Option 1 -  Camping and Water Sports Igatpuri 
For people travelling by own transport we will provide google map locations 
Below camping details is valid for people using private transport
Igatpuri Camps Details 
Campsite is located 25 km from Kasara Railway Station
Day One - Saturday 
02:00 pm - Check in at campsite
02:30 pm - Start with water sports Lake Boating / Lake Kayaking / Swimming 
05:30 pm - Snacks and Tea ( Bhel and Potato vada )
06:00 pm - Tent Allotment
06:30 pm - Watch Sunset and Relax in your tent
08:00 pm - Bonfire
09:30 pm - Dinner
10:30 pm - One hour trek around property
11:30 pm - Good Night
Day Two Sunday Morning
09:00 am Breakfast and Tea
11:00 am Check out - Campsite Igatpuri 
Cost: Rs 1200 (Veg Food)
          Rs 1350 (Non-Veg Food)
Option 2 Camping in Igatpuri
Igatpuri Camping Itinerary by local train and shared transport pickup from Kasara Railway Station and Kasara Railway Station Drop
You can reach Kasara Railway Station by Local Central Line Train
Kasara Train Timings
CSMT - 11:46 am
Byculla - 11:53 am
Dadar - 11:59 am
Kurla - 12:06 pm
Ghatkopar - 12:10 pm
Thane - 12:26 pm
Dombivli - 12:39 pm
Kalyan - 12:48 pm
Kasara - 01:58 pm
For Pune people train options 
1. Train name Sahyadri Express and Train Number 11024
06:50 am - Pune
10:32 am - Kalyan
2. Train name Mumbai Express and Train Number 17032
09:05 am - Pune
11:47 am - Kalyan
From Kalyan catch above local Kasara train
02:00 pm - Assemble near the ticket counter and move towards campsite by local vehicle.
Cost: Rs 1600 (Veg Food)  - Rs 1750 (Non-Veg Food)
Note
People may board same train from their respective stations of convenience.
Missing the train is missing pick up from Kasara station, no refund will be provided.
If you miss pick you have to travel by your own from Kasara station to campsite. (we'll help you for vehicle arrangement)
Trekking shoes compulsory for night trek.
Places to visit nearby Igatpuri Campsite not included in package 
Bahuli Dam - Bhavli Dam
Bhavli Waterfall only during monsoon  
Ashoka Waterfall or Vihi Waterfall only during monsoon
Kavnai Fort 
Tringalwadi Fort and Caves 
Vaitarna Dam 
1 Night 1 Day
30 Mar, 06 Apr, 13 Apr, and more
Mazgaon, Maharashtra
Inclusions/Exclusions
What we'll give/What we won't
What is included in the tour
Evening Snacks  Dry bhel and Potato vada and Tea only
Veg or Non Veg Dinner
Tea and Poha Breakfast
Tent Stay on sharing basis 
Indian toilets available
Water sports Kayaking, Paddle Boat, Life Jacket for swimming 
Option 2 local transport on sharing basis Kasara - Campsite - Kasara 
What is NOT included in the tour
Travel till Kasara (option 2)
Any transportation (option 1)
Lunch for day 1.
All kinds of Extra Meals / soft drinks ordered.
Any kind of personal expenses.
Any kind of cost which is not mentioned in the cost includes above.
All expenses incurred due to unforeseen and unavoidable circumstances like roadblocks, bad weather.
Any medical / Emergency evacuations if required.
Things to Carry
Things to Carry
Things to Carry
Torch with extra batteries
Extra pair of cloths & towel
Trekking shoes for night trekking
Comfortable footwear
Warm clothing (during winter)
Personal medicines (if any)
Mosquito repellent cream
Sun cap and Sunscreen
Identity proof
FAQ
Frequently Asked Questions
FAQ Igatpuri Camping and Watersports ?
Twin & Triple Sharing Tent available please mention in comment your requirement when booking
Are toilets available at Igatpuri Watersports campsite ?
Yes Indian commode Toilets are available 
Tent size and availability for Igatpuri Camping near Pune ?
Twin and Triple Sharing tents are available please mention your requirement in comments at time of booking or email us connect@treksandtrails.org your requirement with payment id 
Can non swimmers enjoy water sports like kayaking, river raft boating, lake surfing at Igatpuri Watersports campsite ?
Life Jackets are compulsory for safety reasons, Non swimmers can enjoy all water sports safely wearing life jackets.
Is Parking available at Camping ground ?
Yes parking is available 
Watersports timing at Igatpuri Camping and Water sports?
2 pm to 6 pm 
7 am to 9 am 
If i miss the train for Kasara?
We will help you arrange transport you would have to pay for transport.
Types of Watersports available at Igatpuri Camping? 
Kayak Ride 
Paddle Boat Ride in Raft 
Life Jacket Swimming 
Is Star Gazing available at Igatpuri Camping near Nasik ?
Yes we arrange Stargazing on new moon weekend on customer request. 
Treks and Trails India, Dockyard Road, Ekta Nagar, Mazgaon, Mumbai, Maharashtra, India
View on Map